At E3 2017, I had the chance to demo Puuba Game's The Metronomicon: Slay the Dance Floor. This game, an expansion to the 2016 PC game The Metronomicon, is a rhythm RPG that utilizes the Rock Band guitar. After a couple of minutes of playing the game, my interest in seeing this game further was piqued.
Rhythm games have always been a secret love of mine. It all started with Guitar Hero and now it's with Rock Band Rivals. Rock Band is still my go-to when I have some time to spare and I have an itching to jam out to "Carry on My Wayward Son" or "Interstate Love Song."
Of course, playing these games requires additional peripherals like a drum kit or a mic stand, and oftentimes I wondered if there was some other way we could put these peripherals to good use. Fortunately that question has been answered.
The Metronomicon sees you take control a party of eight newly graduated masters of the "rhythmic combat arts" to wage musical warfare against a multitude of dance-mongering fiends.
This is a unique game that combines your basic RPG elements like spells, character stats, and class abilities with the familiar falling guitar notes of Rock Band or Guitar Hero. The game is made for 1 or 2 players, but you control 4 unique characters at a time. Each character has their own stats and abilities and fall within your normal RPG tanking, buffing, healing or damage-dealing classes. As you go through the game, you learn new spells and abilities, and you can gain useful weapon enhancements.
As far as the battle system goes, the guitar becomes a huge factor. If you are in single player mode, you have to navigate between all four characters and use their attacks, spells and abilities in the order they appear on the top bar of that character's strum bar. As the battle goes on, notes will drop that you have to hit in order to cast a spell or perform an attack. There is no strumming in the game; the strum bar acts as your left and right arrow. So you strum to move to a new character, while you press the fret buttons that correspond to the notes that are falling. It takes some getting used to, especially for those of us who are so used to Rock Band strumming, but after a few minutes, I was able to easily switch back and forth between all my characters while hitting the notes I needed to cast Heal or to attack with a special ability.
It's important to note that you don't have to use the guitar to play this game, a controller works just as well; however, I do recommend using the guitar if you have one. It just adds to the fun of the game.
If you're playing with two players, then you need to have some coordination. As each character you choose cycles through their attacks and spells, you and your partner need to know who might be covering who and when. I did get a chance to play the multiplayer and there were a lot of things going on that I needed to track. First, I had to keep an eye on my starting character and the spells and abilities they had coming up while my partner did the same, but then if someone need to cast a heal spell, one of us had to make the choice to move over to that character while the other player continued to attack. And some spells were on cool down, so we had to continuous switch to other characters to keep the attacks coming. After finishing a sequence of fights, we came up against the boss. Through teamwork and a few well-placed heals, we were victorious. It was very rewarding.
We started the demo on easy, but me and my penchant for making things harder on myself, wanted to see what a hard mode battle was like. Along with another E3 attendee, we took on a series of battles on hard mode and I have to say, it was immensely fun and a little chaotic. The notes that came down were faster and more abundant and it reminded me of the Hard mode in any Rock Band game. And with the faster falling notes, it meant that the spells and abilities of my characters were cycling through at breakneck speed. Fortunately me and my partner were able to persevere and complete the battle sequence. We did high five each other in the end I feel it was well-deserved.
Since this a rhythm RPG game, you would expect an amazing soundtrack, and this game has quite the set list. While some of the songs were written and performed by the development team, they were also able to get an exclusive track from Jimmy Urine of Mindless Self Indulgence, and an unreleased track from Shiny Toy Guns. When I asked Danny Garfield, Lead Developer at Puuba Games, how they choose the tracks for the game, he explained that they made a list of their favorite bands and asked if they could use their music. It was as simple as that.
The result is a soundtrack of "the hottest electronic, synthwave, chiptune and indie artists" like DJ CUTMAN, Crushcraze, and J-Punch. Included in the set list are:
Au5 – "Follow You" ft. Danyka Nadeau" (VIP Mix)
Au5 – "Inside" ft. Danyka Nadeau (VIP Mix)
Benjamin Briggs – "Methods"
Christopher Hoag – "Clocks And Highways"
Christopher Hoag – "Israel"
Christopher Hoag – "Mr. Mayhem"
Craig Barnes & Kate Tucker – "Our Own Way Home"
Crushcraze – "Bed Down with a Monster"
Crushcraze – "Strut Peacock"
Demoscene Time Machine – "Buccaneer"
Dan Terminus – "Avalanche"
Dan Terminus – "Heavy Artillery"
DJ CUTMAN feat. Popcorn Kid – "Samurai"
DJ Sultan – "Strike Me"
Dreamachine – "Escape Boss"
Dreamachine – "Swamp Dive"
Efe Tozan – "111"
Efe Tozan – "Beyoglu Nights"
Evan Gamble – "The Last Stop for Us"
GosT – "Master"
Hugh Holton – "Keep Moving"
Jamie Brennan – "Back Home" (Original Mix)
JERC & Rondevu – "Do It Right" (Original Mix)
Jimmy Urine from Mindless Self Indulgence – "Fighting with the Melody"
J-Punch – "Temple"
J-Punch and Dave Moonshine – "Almost Over"
J-Punch and Dave Moonshine – "Hollow Bodies"
J-Punch and Dave Moonshine – "Nilobytes"
J-Punch and Shelley Harland – "The Secret" (Openair Remix)
Knight Heir – "SAY MY NAME"
Kubbi – "Cascade"
Pederson – "Imago"
Machinae Supremacy – "Republic of Gamers"
Maini Sorri – "Lost Love"
Mega Ran – "Miss Communication"
Perturbator – "She is Young, She is Beautiful, She is Next"
Phonetic Hero – "Pubstep"
Phunktastike – "Citrik" (XS Night Remix)
Rosie – "For the Love of God"
Rosie – "Midnight"
Rumspringa – "Musical Chairs"
Shinji Hosoe (SuperSweep) – "Zombie Chase"
*Shiny Toy Guns – "Live It Up"
Solila – "Blazing" (Original Mix)
Stemage – "Fat Man in the Pool"
Takahiro Eguchi (SuperSweep) – "Redring"
*Viking Guitar – "Dropship"
Viking Guitar – "The Players' Score"
YACHT -" I Thought The Future Would Be Cooler"
Zenbi – "Down" (Original Mix)
The game has a 9-hour story campaign mode, and it's an interesting tale of "party crashing fiends" who descend upon the land and wreak serious musical havoc. There are raves in the forests and dance-offs in a castle and they can only be stopped by the eight characters skilled in the art of "rhythmic combat." The game also has a high replayability, so players can start up the campaign again or play one of the other modes like freeplay mode, ranked side quests, dailies and arenas.  
From what I saw of the game, it looks like players are in for an insane musically-infused ride, and I, for one, look forward to strapping on my guitar and saving the world through the power of chiptunes.
The original Metronomicon is already available for PC and Mac through Steam for $19.99. Once The Metronomicon: Slay the Dance Floor releases at the end of summer for digital download on the PlayStation 4 and Xbox One (for $19.99), the original Steam game will be updated with the new content.  
You can watch the reveal trailer below, and check out some screenshots in the Gallery.
Gallery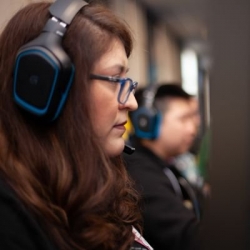 Latest posts by Renee Lopez
(see all)