E3 2017 is officially underway with the press conference from EA, EA Play. The 2-hour conference, held at the Hollywood Palladium in Los Angeles, gave viewers and attendees a glimpse into upcoming games from EA, including new gameplay footage, new trailers and updates.
"We're all here for one simple reason," CEO Andrew Wilson said in the press conference, "All of us share one fundamental belief, and that's that games are the best form of entertainment on the planet. They connect us like nothing else. They bring us together across cities and countries. They inspire us. They ignite the fires of competition inside us. Games allow us to do extraordinary things and to be extraordinary in our own ways. Games enable us to be our most creative selves."
Battlefield I
With over 20 million players worldwide, Battlefront I is a major title in the EA library. At EA Play, producer Andrew Gulotta from DICE Games introduced new content for Battlefield I starting with the debut of night maps. This summer players will be able to fight under the cover of night on two maps: Nivelle Nights (June) and Prise De Tahure (July). These maps will require players to form their armies as they battle through "a massive network of trenches." Next, Battlefield I will be getting a major expansion in September, In the Name of the Tsar. This brings the Battlefield I story to the eastern front of World War I. Included in this expansion are 6 new maps, the Russian army (with the Hussar Calvary), new vehicles and weapons, and the Women's Battalion of Death. In the expansion there will be "deeper player progression" in both Progression and Operations mode. There will be new assignments, play style specializations, and new multi-battle experiences.
You can check out the trailer for In the Name of the Tsar below
FIFA and Madden Esports
Patrick Söderlund, Executive Vice President of EA Worldwide Studios, announced that later this year, Battlefield I will be giving players "a new competitive experience." More information will be given at GamesCon in August. Söderlund also made a major esports announcement. This fall, EA will be launching "the largest FIFA championship ever."  The best players will be able to compete in the FIFA Ultimate Team Champions Cup while the best Madden players will be able to represent their favorite football teams. More information will be announced later this summer.
FIFA 18
Popular FIFA online personalities, Michael Davies and Roger Bennet, from Men in Blazers, announced FIFA 18. While showing footage from the new FIFA game such as new locations and mo-cap footage of Cristian Ronaldo, the main focus on FIFA 18 will be the return of the protagonist from FIFA 17, Alex Hunter. In the single-player mode, The Journey, players will once again assume the role of Alex Hunter as he plays in his second season with the Premiere League.  
You can see the trailer for FIFA 18 below:
Need For Speed Payback
Jesse Wellens, a YouTube creator, was joined by Marcus Nilsson, Executive Producer, to show in-game footage of the recently announced Need for Speed Payback. In this game, players will be "on a revenge mission to take down the House." The game will feature car battles, car pursuits, heist missions, three playable characters, and more vehicle and performance customizations. There are also "Derelicts" where you can take an abandoned classic car and restore it into a supercar. The game will have more open world features than previous Need for Speed games.
You can see the official gameplay trailer for Need for Speed Payback below:
A Way Out
Patrick Söderlund, Executive Vice President, was back to announce a new indie title A Way Out, a collaboration between indie studio Hazelight and EA Originals, EA's program to support small, independent studios.
The gameplay trailer was introduced by the writer and director of game, Josef Fares, whose previous game Brothers: A Tale of Two Sons was a critical success.
"The idea for A Way Out came to me when me and a friend were trying to find a co-op game that wasn't just a drop in, drop out experience. I wanted to play a game were the characters had unique personalities and goals, a game where me and a friend can embark on an emotional journey together. And this is exactly what A Way Out is."
The game is designed for split screen co-op only. While players can also play with a friend online, the idea behind the game is to have two people in the same room together completing the story. The story follows two characters, Vincent and Leo, who hatch up a plan to break out of prison (for reasons). Together, players will complete missions and meet objectives.
You can watch the announcement trailer and the gameplay footage below. A Way Out is scheduled for release in early 2018.
SEED: Search for Extraordinary Experiences Division
EA Play was not just about new games, trailers and in-game footage. Patrick Söderlund announced the creation of a new EA division, SEED (Search for Extraordinary Experiences Division). This is a small division whose goal is to explore "some of our most visionary concepts like deep learning or neuro networks. Creating a world for you to define, to interact with and share as you wish. Or virtual humans with deeply sophisticated artificial intelligence."
Madden 18 – Longshot
Söderlund also showed stills from the upcoming Madden 18 game. Using both Frostbite and Project Scorpio, the stills show an almost lifelike game in 4K resolution. At EA Play, they showed the trailer for the playable story, Longshot, which follows prospect Devin Wade as he moves through his football career starting in college up to the NFL.
You can see the announcement trailer for Madden 18: Longshot below.
Anthem
Introducing the new IP as "vast, dangerous, beautiful, and unexpected," Söderlund introduced everyone to the new BioWare game, Anthem.
You can see the announcement trailer below and more information will be presented at the Xbox presentation.
NBA Live 18
Next, Sean O'Brien, Executive Producer, gave us some information about NBA Live 18 and Community Manager, Stephen Gibbons, and Creative Director Connor Dougan gave everyone a first look into the game.  
There will be a free demon in August that will give players an opportunity to test out the new campaign called The One. Depending on the choices you make, you can rise up in the ranks on the hardwood or on the streets. Players can team up with their friends to take on legendary players.
You can see the reveal trailer below:
Star Wars Battlefront II
Introduced by Janina Gavankar, the voice actress behind Star Wars Battlefront II main character Commander Iden Versio, EA showed 30 minutes of in-game footage from a multiplayer campaign.  
Related: Star Wars Battlefront II Release Date Announced at SWCO
This game boasts three times the content of the original Star Wars Battlefront, as well as a 2-player Skirmish mode, more planets, more vehicles, more heroes, more space battles, and deeper progression and customization in multiplayer. Not only that, but the game will have new content from across all Star Wars eras.
Characters in multiplayer will be split into different classes: Assault, Heavy, Officer and Specialist. This will give players access to special weapons and abilities that can be customized. These options will directly affect how you help your teammates.
In addition to the class system, there are battle points that players can accumulate in-game that can be spent on new vehicles, spaceships or heroes.
Actor John Boyega joined Janina Gavankar via satellite to announce more news: Finn and Captain Phasma will be in the first season of free downloadable content. Players will also be able to play on the new planet Kree, from The Last Jedi.  In addition, EA and DICE will be launching themed seasons of content, free of charge after the game is released.  Players who pre-order the game will have early access to the multiplayer Beta.
You can see the in-game footage below:
Overall Impressions
Star Wars Battlefront II is definitely the most exciting announcement from EA Play, but I'll be honest, the new Battlefield I expansion got me a little interested in picking up Battlefield I. Anthem is also a game that I am absolutely interested in because it's BioWare and it looks a grittier Mass Effect. Also, BioWare knows how to create galaxies that are full of interesting characters, races, and worlds. I also liked what I saw with Need for Speed Payback. It's as if Fast and Furious, Grand Theft Auto V and Burnout Paradise got together and made an amazing spinoff game. I'm sold on it.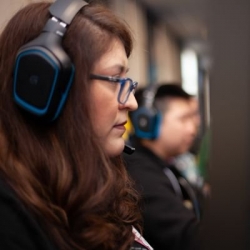 Latest posts by Renee Lopez
(see all)