Welcome to this week's installment of F2P Friday, where we highlight our favorite Free-2-Play games. The video game market is oversaturated, and sometimes, hidden gems fall through the cracks. This is where we dig for you and feature a new F2P game we know you will enjoy every week. Let's dive in.
Dynopunk: Welcome to Synth-City
Imagine that a meteor had never struck the Earth, so the dinosaurs did not go extinct but continued to evolve. Millions of years later, they inhabit high-tech megalopolises. One such dino is Chris, a repair shop owner who dreams of building a time machine to travel to the past and find true love because he is the last remaining T-Rex on the planet.
RELATED: Check out more from our F2P Friday Series!
The Basics
In Dynopunk: Welcome to Synth-City, you find yourself in a satiric world of the future, except instead of humans, it's inhabited by dinosaurs living, writing their stories and dealing with personal problems in huge high-tech cities. You are the last living T-Rex who dreams of opening his workshop.
You'll fix gadgets while finding a personalized approach to every customer. The mechanic of offering the customer beverages and having heart-to-heart conversations reminded me of the Coffeetalk gameplay. This game isn't all work, though, as you'll need to find time to balance your private life and chase your dream.
Why Should I Play?
Why should you play Dynopunk: Welcome to Synth-City? While this is technically just a preview, it is worth a play. I was able to get about two hours of playtime out of the first seven days that are available in the demo. 
RELATED: April's Most Anticipated Video Games
This was partly due to the incredible '90s retro-styled pixelized art that the game uses. The color palette is neon tinted and makes the lines of the unique characters pop. The art perfectly complements the lo-fi soundtrack, so don't forget to turn up the volume. 
Be ahead of the times and play the Dynopunk: Welcome to Synth-City demo on Steam here!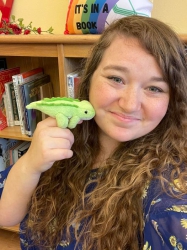 Latest posts by Lauren Darnell
(see all)