This autumn, I found myself fortunate enough to begin studying video game design and development as a graduate student in Santa Clara, California. Thus, it was a delightful coincidence that I was offered the opportunity to review Ross Berger's new book: Dramatic Storytelling and Narrative Design: A Writer's Guide to Video Games and Transmedia.
Even if I wasn't already starting to learn the basics of game design and game programming, I would say that this book is the most useful thing I have ever read. I will try to avoid providing too many details, as it is a short book and I really do want Geek Girl Authority's readers to check it out for themselves. But take my word for it: this might be the new foundational text for future narrative designers like myself.
RELATED: IWD 2020: Spotlight on Our Favorite Female Game Designers
First, a little about the author. Ross Berger began his writing career as a playwright in New York City, eventually getting a foothold as a television writer. In 2004, he co-wrote the episode "Gov Love" for NBC's Law & Order. In 2007, Berger brought that experience to YouTube in 2007 as a writer for the YouTube channel/series Lonelygirl15.
Berger credits his experience in Internet content with revealing how transmedia and video games were the future of dramatic storytelling. After that, Berger leapt into the world of video game storytelling as a writer for CSI: Crime Scene Investigation – Deadly Intent (Telltale Games) and Project Spark (Microsoft Studios), as well as Narrative Designer for Sunset Overdrive (Insomniac Games) and Quantum Break (Remedy Entertainment).
Writing and dramatic storytelling feels like a very closed-off profession. Indeed, it *is* closed-off, considering how many would-be writers are constantly floating their ideas and scripts in Los Angeles alone, begging for the chance at a pitch meeting. And even after your story miraculously gets greenlit and made into a film, TV pilot, etc., you may find yourself right back at square one. Just like Berger did for years, with only a single TV credit to his name.
Berger cites these grim prospects as his reason for writing such a book. His writing can be technical when discussing the craft of writing, but it is laid out in such a way that anyone can pick up the tools and tricks without even penning the first page of their screenplay. The Hollywood elitism of video games as a "tie-in" at best for more traditional media like films and TV shows are quickly being eclipsed by the money and popularity that video games generate. So for those writers who are interested in games (or at least respect games), this book provides the keys to not only breaking-in but also succeeding in narrative design.
Berger helpfully provides examples of narrative design in award-winning games of the past few years, as well as archetypes that narrative designers can lean on for creating protagonists, antagonists, and even background NPCs. Yes, he covers traditional writing techniques and concepts like the three-act structure, but he always makes sure to return and relate the conversation back to the more-specific framework of narrative design. Berger goes beyond merely what terms you need to know to succeed in your pitch and land the job. He delves into what aspects make a video game's story enjoyable (and to be honest, addicting) for the player. What gets the player invested? How does the writer want the player to feel compared to what they can actually do?
RELATED: The Video Games That Have Impacted Us
One fact that I found enlightening from Berger is that narrative design is an incredibly new space in video games. The popularity and demand for writing in the video game industry are a masquerade for how fresh and untested this aspect of the industry actually is. Seriously: the term was only coined as recently as 2007! Even after the job title itself was defined, most game designers acted as their own narrative designers, rather than hire professional writers.
Berger stresses that the fundamental key to narrative design for any game developer is collaboration. Stories in video games are limited by what the software engineers can actually code, so narrative designers need to be collaborative and adaptive with the whole team. More often than not, a narrative designer might find themselves acting as an editor for the rest of the team's ideas, but that is something that falls under a narrative designer's responsibility. If the team wanted just a game writer, they would have hired you to write a single quest or character (if that). A narrative designer must be prepared to not only write, but also revise, polish and provide structure for the wider game narrative.
RELATED: SDCC 2020: Pixel Stories – Reimagining Video Game Narrative
Berger lost me a little with the details on transmedia, but I can chalk that one up to my own lack of exposure to that particular entertainment technique. The official definition would be that "transmedia is the narrative technique that tells a story across multiple platforms". Fortunately, Berger cuts to Ockham's Razor for the concept: transmedia are stories that continue to advance with technology. Alternate reality games (ARGs), YouTube, Twitch, etc. are all great examples of extending stories into new mediums using transmedia. Berger makes sure to stress that transmedia is not necessary for narrative design. However, he insists that transmedia makes for lasting franchises and making media accessible to all consumers (regardless of platform) is the future of video games. Berger cites Disney and properties like the "Marvel Cinematic Universe" as successful examples of this multimedia approach.
In the end, what makes Dramatic Storytelling and Narrative Design a great book is that it is great for both current and aspiring narrative designers and writers. In fact, I want to go one step further and suggest that it is a great read for game producers and really any member of the video game industry. The fundamental truth is that not many game developers are used to working with writers. This book can explain the job of a narrative designer to anyone, regardless of previous experience. Ross Berger does occasionally resort to industry jargon (i.e. "the golden path"), but a helpful glossary is included at the beginning of the book for reference.
Combined with being an easy read at only 174 pages, Ross Berger's guide is a must-read for anyone even just vaguely interested in writing for video games. Heck, even if you're just a *consumer* of video games, you should probably read this book and see what went into making the content you consume. It is a new and forward-thinking approach to instruction in storytelling for video games. I would be hard-pressed to find a book (or really any medium) that could do it as authoritatively and succinctly as Berger has succeeded in doing.
Dramatic Storytelling and Narrative Design: A Writer's Guide to Video Games and Transmedia is published by CRC Press, and is available now at Barnes & Noble, Amazon and Your Friendly Neighborhood Bookstore.
A copy of Dramatic Storytelling & Narrative Design was provided to Geek Girl Authority for this review.
This article was originally published 11/24/10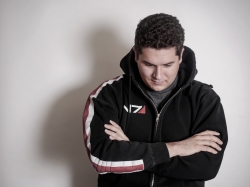 Latest posts by Tyler Boyce
(see all)