Square Enix announced today that Dragon Quest XI S: Echoes of an Elusive Age – Definitive Edition will be coming to PlayStation 4, Xbox One and PC (Steam) on December 4, 2020. This is incredible news for two important reasons. While this game has been out since 2017, this will be the first time Dragon Age XI will be available on the Xbox One and through the Xbox One Game Pass. And it also means that players will be able to experience the Definitive Edition that had only been available to Nintendo Switch and Nintendo DS owners.  
For players unfamiliar with Dragon Quest, a JRPG series that made its debut on the Famicon in 1986, this is excellent introductory game. The story follows the Luminary, a chosen hero who must traverse the world of Erdrea in order to solve the mystery of his birth and put an end to the rising darkness. He is joined by a colorful cast of companions who aid him on his journey.
RELATED: Classic Dragon Quest Games Are Coming to the Nintendo Switch
The game features over 100 hours of gameplay, but what makes the Definitive Edition special is the optional 16-bit graphics mode. This allows players to experience the game as it used to look in the days of the NES (or rather if the game had been released on the SNES). There is also an audio option to change the voice overs from English to Japanese. On top of that there will also be new character side stories, a photo mode, and a fully orchestrated soundtrack. Players will also be able to visit past Dragon Quest worlds to complete additional side-quests.  
You can watch the announcement trailer below. Pre-orders are now available through the Microsoft Store and Steam. PlayStation pre-orders will be available at a later time. For more information, visit the Dragon Quest website.
Trailer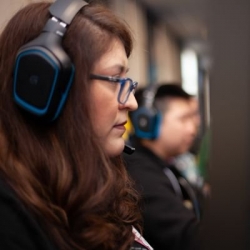 Latest posts by Renee Lopez
(see all)