The popularity and love for Firefly is very much on display in at Dragon Con 2017. Coming shortly after Nathan Fillion's packed panel, Jewel Staite filled up her own room. The actress looked a little amazed as she stepped out to a standing ovation in a ballroom dotted with more than a few Firefly cosplays. 
As is to be expected, Staite's panel revolved primarily around her role as Kaylee, Serenity's faithful engineer. However, there were a number of mentions of Space Cases. Nickelodeon distributed the late 90's Canadian kid's series in the United States. Fellow convention attendee Walter Jones also starred in the show. "I call Walter Jones 'The Time Lord' because he doesn't seem to age". Staite continued, reflecting fondly on how her former co-star seems to appear at many of the same conventions, and they see each other often. 
Like Fillion earlier in the day, Staite spoke honestly and candidly about Firefly. The actress spoke at length on the power of the material to her. She riffed freely on how the intensity of the fan response continues to effect her almost fifteen years after the show's cancellation:
"Everything happened after shooting the show. We were very much the underdog and were under the impression that no one was watching the show. Nathan, Summer (Glau) and I went to our first convention. It was a Buffy convention. There were huge lines of Jayne hats… we get such a kick out it, but we still get emotional about it. People still care. We never thought during the brief time we were shooting that it would turn into something like this…"
At one point during the panel, Staite stood up and snapped a picture of the cosplays filling the room. Each character appeared, from Kaylee, Captain Reynolds and even a handful of Simon Tam's. A cute moment came midway through the panel when a fan showed Jewel a Firefly tattoo on his leg. As the men extended his calf, she let out a gleeful cry, "It's my face! It's my face!". She jumped down from her table moved towards the man, and proceeded to take a selfie with his tattoo. "I feel like a good*amn rockstar right now".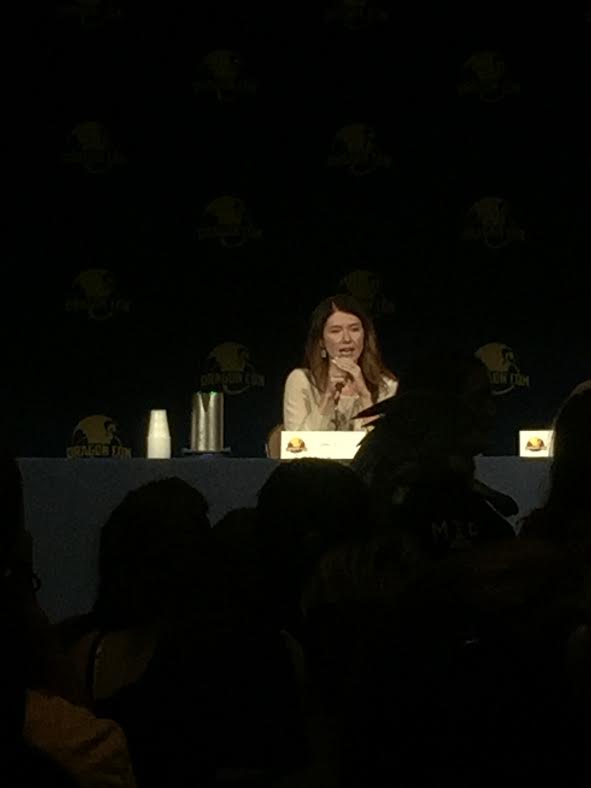 Later, an attendee asked if Firefly merchandise went missing after filming wrapped. Staite's response was hysterically chatty, "Yeah, lots of things went missing… Nathan took everything. He has shelves full of props… no shame. Alan took the head from the Jaynestown statue. Gina wanted her vest, but it couldn't be found. A lot of things were auctioned off for charity…".  She continued, letting the conversation shift organically to the famous pink dress from "Shindig", "I don't know what happened to the pink dress… try peeing in it. Everyone is real excited to wear it, and by the end of the day they are over it. How do you pee with the hoop? I couldn't figure it out". 
The ongoing rumor mill later kicked into high gear when the subject of a Firefly reboot came up.  She didn't hold back, equating a reboot to it being "the guy who cheated on you and wants you back". Staite chuckled, "Stranger things have happened. After all, Gilmore Girls got a reboot". She expressed dismay at talk of a reboot with a new cast, saying that it would be far more interesting to see where the original characters ended up. Simon and Kaylee would have "Babies, babies babies. I want Kaylee and Simon to have babies". 
As things continued, Staite's role in the popular Bryan Fuller, cult television series Wonderfalls came up. "Wonderfalls didn't have a proper home back then. It's such a shame that shows like that were placed on juggernaut networks that didn't know what to do with them". The conversation continued to mention the dozens of shows (like Firefly) from the early 2000's which received criminally abbreviated orders from the big four networks. Could Firefly have seen a longer life in a Netflix era? 
The panel concluded with an attendee asking Staite who she wanted to end up on the Iron Throne. It turns out she is a massive Game of Thrones fan. She gushed openly about the popular show, "Are you all caught up? Jon Snow is the rightful heir. Though I would love to see Dany… I love that show like you love Firefly". 
Continue checking in to Geek Girl Authority for our continuing Dragon Con 2017 coverage. 
Latest posts by Kimberly Pierce
(see all)