The next big-screen entry in the Marvel Cinematic Universe will be Doctor Strange in the Multiverse of Madness. Flowing from the events of several previous MCU movies and Disney+ streaming shows, Multiverse of Madness might be the most complicated MCU movie yet. Fortunately, Geek Girl Authority has a primer for the movies, shows, and additional background you need to be best prepared when the sequel arrives this spring!
Doctor Strange (2016)
The eponymous Strange (Benedict Cumberbatch) made his first on-screen appearance in Phase Three of the MCU (after being name-checked in 2014's Captain America 2: The Winter Soldier). This movie is an origin story for the character, directed by Scott Derrickson, who was initially slated to direct Strange 2 before being the project passed to Sam Raimi.
The movie also introduces several supporting characters that will be returning for Multiverse of Madness: love interest Christine Palmer (Rachel McAdams), antagonist Karl Mordo (Chiwetel Ejiofor), and the inimitable Wong (Benedict Wong).
WandaVision (2021)
Wanda Maximoff (Elizabeth Olsen) debuted in the second phase of the MCU, first appearing in The Winter Soldier's post-credits sequence before making her full debut in 2015's Avengers 2: Age of Ultron. In 2016's Captain America 3: Civil War, her integral role in the events was strangely downplayed, and in 2018's Avengers 3: Infinity War, she was subjected to a tragic experience: having to watch her lover, the Vision, be murdered at the hand of Thanos. In 2019's Avengers 4: Endgame, she got a chance to throw down with Thanos, and respectable sources believe she might have prevailed if the Mad Titan weren't committed to fighting dirty.
RELATED: How WandaVision Perfectly Encapsulates Grief and Trauma
However, everything you really need to know about Wanda (including how she achieved her Chaos Magic-fueled apotheosis as The Scarlet Witch) is contained in WandaVision, which even goes so far as to recap the aforementioned Infinity Saga shenanigans. The first Disney+ MCU series, WandaVision, debuted in January 2021 and set an incredibly high bar for Phase Four. Plus, one of the show's meta "adverts" gives us our first hint at the possibility that Wanda may be a Nexus Being, an essential concept for Marvel Comics that could come into play in the MCU over the course of Multiverse of Madness.
RELATED: Read our WandaVision recaps here!
The events in Westview have been referenced in both trailers for Multiverse of Madness, so WandaVision is essential viewing for the Strange sequel. 
Loki Season One (2021)
Enter the Marvel multiverse! Michael Waldron, the Rick & Morty alum who wrote Multiverse of Madness, also wrote the first season of this Disney+ series, Loki. But it would be required viewing simply because it fully introduces the MCU multiverse that was only teased in WandaVision. 
While characters from the show may or may not appear in the movie, two concepts introduced in Loki seem likely to be integral to Multiverse of Madness. The first is the idea of "Variants," or "alternate versions" of characters from other timelines. The same actor as the "prime" version of the character may play these Variants, or they may be played by a different actor or even a CGI animal stand-in.
RELATED: Who Is the Time Variance Authority?
The other important concept is the idea of extra-dimensional organizations responsible for maintaining order. In Loki, this took the form of the Time Variance Authority, or TVA, a nightmarish bureaucracy with immense power. The TVA could appear in Multiverse of Madness, or we could see another organization with similar capabilities: the Illuminati, the Interdimensional Council of Reeds, or any one of many other possible candidates.
Captain Marvel (2019)
Captain Marvel revealed the origin story of the eponymous character, showing how Carol Danvers (Brie Larson) became imbued with the power of an Infinity Stone. Over the course of the movie, Danvers returns to Earth, where she reunites with her close friend Maria Rambeau (Lashana Lynch). As she reclaims her relationship with Maria, she also interacts with her daughter, Monica (played by Akira and Azari Akbar in the movie).
When activated, Captain Marvel's powers possess a distinct appearance, and a character in the Multiverse of Madness trailer seems to possess these powers. However, the character doesn't seem to be Carol! If that is indeed a Captain Marvel Variant, the details regarding Maria's daughter Monica (played as an adult by Teyonah Parris) revealed over the course of WandaVision could be important to Doctor Strange in the Multiverse of Madness, as well.
What If…? Season One (2021)
In the first animated MCU show, which may or may not directly result from the climactic events of the first season of Loki, The Watcher (Jeffrey Wright) guides viewers as he observes some of the strangest events to transpire across the multiverse. While it was presented as an anthology, the series progressed toward serialization, morphing into something of an Exiles adaptation by the first season finale. Two of the characters introduced over the season may play a role in Multiverse of Madness. 
The first is Strange Supreme, the Doctor Strange Variant, introduced in the episode "What If… Doctor Strange Lost His Heart Instead of His Hands?" In addition to revealing a Variant of Strange who may have already appeared in the Multiverse of Madness trailer, this episode also re-introduced Strange's love interest, Palmer, who is confirmed to be appearing in the sequel.
RELATED: Catch up on all the alternate madness with our What If…? recaps!
The other character of interest is Captain Carter, a Variant of Peggy Carter who was introduced to the MCU in the series premiere, "What If… Captain Carter Were the First Avenger?" It appears as though one of the fragments on the most recently released poster for Multiverse of Madness includes a glimpse of her shield, suggesting we might see Hayley Atwell portray the character in live-action for the first time in the movie.
Spider-Man 3: No Way Home (2021)
For several reasons, the third movie in the MCU Spider-Man trilogy is important to Multiverse of Madness. First of all, it seems as though the plot of Multiverse of Madness results directly from Strange's irresponsible spell casting in this movie. Not only is he warned not to cast the spell by Wong, but why is he knowingly using powerful magic to deal with teenager's drama anyway? Get it together, Strange!
Speaking of Wong, No Way Home revealed a critical piece of information: when the Snap of Thanos blipped Strange, he was considered dead, and per the fact that somebody needs to occupy the role to protect Earth, the title of Sorcerer Supreme passed to Wong. Furthermore, he's unwilling to cede it now that Strange has returned (and honestly, the much more responsible Wong is a better fit for the position anyway).
Sam Raimi
The director behind the Evil Dead franchise, Raimi, is well known for his visual panache, a flair for gory and improbable visual effects, unparalleled set pieces, and knack for combining comedy and horror in irresistible genre stories. This isn't Raimi's first time playing the Marvel sandbox, either, as he directed the excellent 2000s-era Spider-Man trilogy starring Tobey Maguire.
The Maguire Spider-Man trilogy even includes an allusion to the good Doctor Stephen, even though the character wouldn't appear on the big screen for another decade and a half. In 2004's Spider-Man 2, J. Jonah Jameson (J.K. Simmons) asks what they will call the now-eight-limbed Otto Octavius, and his assistant Ted Hoffman (Ted Raimi) suggests several names, including "Doctor Strange" (which JJJ concludes is "pretty good, but it's taken").
Speaking of Ted, the actor is director Sam's brother, and like groovy Bruce Campbell, he's appeared in many of Sam's movies. Odds are, he'll be appearing in Multiverse of Madness, either reprising the role of Hoffman, playing a new role, or possibly both.
Bruce Campbell
As far as Campbell goes, he may also be appearing in the movie. He sent a Tweet stating that he was filming in London during the same time Strange 2 was shooting, and as mentioned above, he appears in most of Sam's projects.
Boy, it was a blast, working in a certain city, with a certain director on a certain movie with a certain actor – it sure was! pic.twitter.com/1q8pga0Miu

— Bruce Campbell (@GroovyBruce) February 27, 2021
There are several possibilities for the character that Campbell could be playing. One is Ash Williams, the role he originated in Evil Dead (1981). This character may be especially likely because he has already appeared in the panels of Marvel Comics, playing a leading role in 2007's Marvel Zombies vs. Army of Darkness.
However, he could also be "reprising" his triple-cameo role(s) from Raimi's Spider trilogy. Campbell appeared in an obvious cameo in all three of those movies, but seemingly in a different role each time. Rumors soon circulated that all three characters would be revealed to be the same person in the never-produced Spider-Man 4, indicating that Campbell had been playing master of deception Mysterio all along! While Jake Gyllenhaal played the role of Mysterio in Spider-Man: Far From Home, with the multiverse in play, there's no reason Campbell couldn't be playing a Quentin Beck variant.
Danny Elfman
Danny Elfman is scoring Multiverse of Madness. The Oingo Boingo frontman collaborated with Raimi on the score for 2 ½ of the Maguire Spider-Man movies, leaving part way through the third over creative differences. You can take a look at the accreditation for the songs during the end credits of 2007's Spider-Man 3 if you want an idea of just how "in the middle of the project" Elfman was when he departed.
RELATED: Listen to the Absolutely Epic JUSTICE LEAGUE Hero Theme By Danny Elfman
However, Elfman reunited with Raimi for 2013's Oz the Great and Powerful (a movie whose title appears on the Westview movie theater marquis in WandaVision… and saw Raimi working with groovy Campbell once more). Elfman's theme for Spider-Man still ranks among Marvel's best orchestral efforts, and his alacrity for unexpected and unforgettable melodies should pair perfectly with Raimi's take on the Marvel multiverse.
X-Men
Is that Patrick Stewart's voice In the most recent Doctor Strange and the Multiverse of Madness trailer? The actor could be reprising the role of Professor Charles Xavier, which he originated in 2000's X-Men and continued to play throughout the Fox X-Men franchise movies, perhaps most memorably in 2017's Logan.
In an interview with comicbook.com, Stewart denied his involvement, saying, "people have been imitating my voice ever since I came on the stage 60 years ago." But have they, though? Even Family Guy ensured they got the man himself to voice the animated version of Captain Jean-Luc Picard when he appeared in a cutaway gag.
If Stewart does appear in the role of Xavier, it won't be the first time the MCU has flirted with the Fox-era mutant movies. In WandaVision, Evan Peters played a "recast" version of Wanda's late twin brother, Pietro Maximoff (Aaron Taylor-Johnson played the prime version in Age of Ultron). The joke was that Peters played Peter Maximoff in X-Men: Days of Future Past and its sequels, a character that might be considered a Variant of the MCU's Quicksilver.
As was intended, this led to rampant speculation about whether or not the mutants would be introduced in WandaVision. However, the meta casting was revealed to be a red herring when it turned out that Peters was simply playing a loser Westview resident, wannabe actor Ralph Bohner.
Nevertheless, if that is indeed Stewart's voice in the Multiverse of Madness trailer, it could mean that the mutants are finally poised to enter MCU continuity. Laura for Wolverine, please!
America Chavez
As seen in the trailers and posters for the movie, America Chavez (Xochitl Gomez) will make her debut in Multiverse of Madness! America has the ability to punch star-shaped holes in the fabric of reality, allowing her to travel the multiverse at will (and likely making America a key ally for Strange through all this, you know, madness).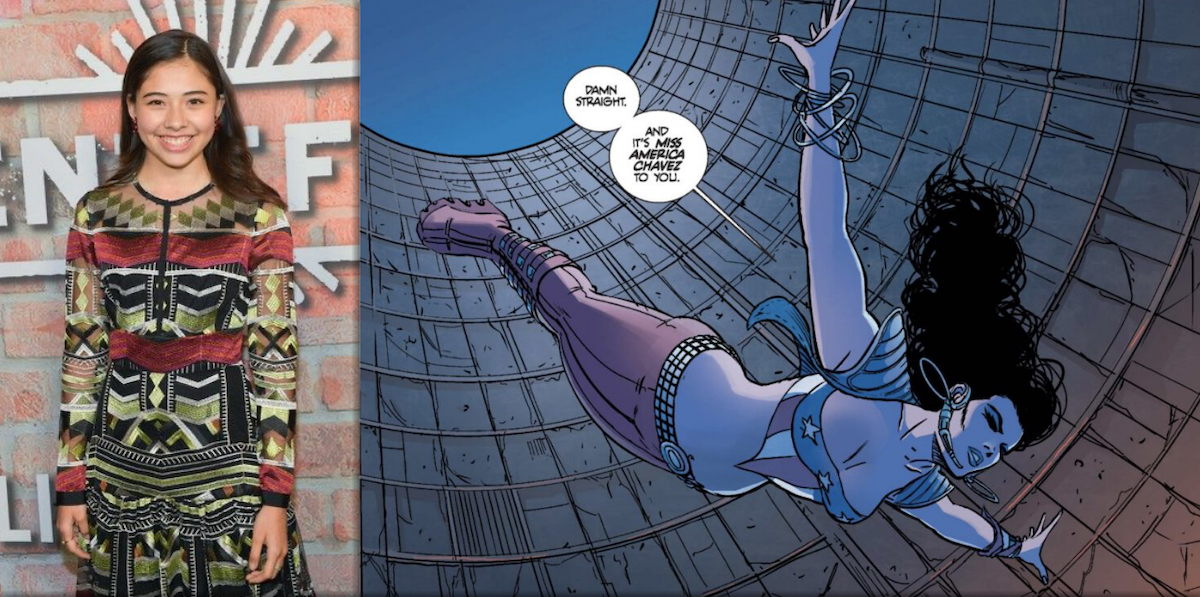 RELATED: Everything You Need to Know About Amercia Chavez
Plus, America Chavez has some very exciting team affiliations, including the Young Avengers. This makes America the latest character who appears on the team's roster to make her MCU debut, after twin brothers Billy (Julian Hilliard) and Tommy Maximoff (Jett Klyne) were introduced in WandaVision, Eli Bradley (Elijah Richardson) was introduced in the first season of The Falcon and the Winter Soldier, Kid Loki (Jack Veal) appeared in the first season of Loki, and Kate Bishop (Hailee Steinfeld) appeared in the first season of Hawkeye.
Could the "next generation" of Avengers be making their debut, possibly in a mid-credits sequence? While there's always a chance, just like Stewart, the actor who plays Wiccan has responded, using a language we can always appreciate: a Scarlet Witch reference.
https://twitter.com/_JulianHilliard/status/1495903355973025792?s=20&t=hVzbWqFIRZVnSOBL0N4X8g
Howard the Duck
Howard the Duck is trapped in a world he never made, and he's primed to make a cameo in this movie. Voiced by Seth Green in the MCU, the character first appeared in a cameo capacity in 2014's Guardians of the Galaxy and 2017's Guardians of the Galaxy Vol. 2. However, in Endgame, he can be seen arriving (via one of Strange's portals) in upstate New York to participate in the climactic battle against Thanos.
But what happens to Howard next? Does he return to the stars or remain on Earth? While the character appeared in Las Vegas in one of the episodes of What If…?, we don't know where in the galaxy the Prime version of the character is currently located. 
While he may reappear in She-Hulk on Disney+, there's also the chance that he could make an appearance in Multiverse of Madness. Not only does the character frequently deal with multiversal shenanigans in the panels of Marvel Comics, but he also appeared in Marvel Zombies vs. Army of Darkness, where a zombified version ate an Ash Variant's brains.
RELATED: She-Hulk – Everything You Need to Know About Jennifer Walter
Doctor Strange in the Multiverse of Madness will be in theaters on May 6th, 2022, and you can watch most of the movies and shows mentioned in this article on Disney+… but you're on your own with the Spider-Man stuff!
This article was originally published on 2/25/22.
Latest posts by Avery Kaplan
(see all)