*Very mild spoilers ahead for Doctor Strange in the Multiverse of Madness
The sequel to Doctor Strange is finally in theaters! *Insert happy dance here* After the events of Spider-Man: No Way Home, fans are invested in the multiverse and what it means for the Marvel Cinematic Universe. While some questions remain, the second Doctor Strange movie contains potential clues and information. If you want to know more about the film before heading to the theater, you are in the right place.
About Doctor Strange 2
When last we saw Doctor Strange (Benedict Cumberbatch), a spell gone awry opened up the multiverse, and it took incredible strength and sacrifice to close it. When a young girl, America Chavez (Xochitl Gomez), suddenly drops into Strange's world, everything is at risk.
RELATED: Movie Review: Spider-Man: No Way Home
Strange goes to the only powerful witch he knows, Wanda Maximoff (Elizabeth Olsen), for help. Unfortunately, the lurking danger may be more than any of them anticipated.
Multiverse of Madness also stars Benedict Wong, Rachel McAdams and Michael Stuhlbarg. Sam Raimi directs it.
My Thoughts
Due to the enormous potential for spoilers, this is one of the most challenging reviews I've written. Bear with me as I try to express my thoughts without giving anything away.
First, I want to commend the acting. The multiverse provides many different versions of some characters, and the actors handled each version brilliantly. I am a huge fan of Benedict Cumberbatch and think he is a fantastic Doctor Strange; however, it is Elizabeth Olsen that deserves an award. Wanda has an intense character arc, and Olsen handles it with incredible talent and ease.
We saw the Scarlet Witch in WandaVision, but that was nothing compared to her abilities in Multiverse of Madness. Wanda is strong and determined. Nothing can stop her from doing what she feels she must.
As a side note, if you haven't already seen them, I strongly suggest watching WandaVision and Spider-Man: No Way Home before seeing this movie. 
Also, Xochitl Gomez is the perfect casting for America Chavez! I can't gush about her enough. It's as if she jumped straight off a comic book page. Plus, her acting skills are on full display.
Aside from the acting, the story and writing are magnificent. Each character gets ample screen time. There is a clear progression, and everything comes to a satisfying conclusion. There are no loose ends. 
Generally speaking, even when I like a movie, I check the time regularly. While watching Multiverse of Madness, two hours passed before I even thought to check the time. This fact alone warrants a high rating from me.
RELATED: Check out our other movie reviews!
As Strange and company travel the multiverse, my overexcitable self was thrilled to see a few unexpected characters. Of course, it is a given there will be alternate versions of familiar characters, but some excited me more than others. One, in particular, is a favorite of mine. I almost squealed in the middle of the theater. Be prepared for shock and awe.
Finally, the settings and the effects are astounding. There is a moment during a battle scene where the effects *almost* faltered, but otherwise, they are visually stunning. And the scenery! Mind-blowing.
There is one scene I have to mention specifically. During the first big trip through various universes, one of the worlds they go through looks like a comic book. This scene made me deliriously happy.
Final Thoughts
I highly recommend going to see Doctor Strange in the Multiverse of Madness! It has something for everyone; superheroes, horror and even romance.
As a final tip, there are two post-credits scenes, the first one is important, and the second is mildly funny but ultimately pointless. HOWEVER, there is a message at the end of the credits you do not want to miss.
Do you plan on seeing this movie in the theater? Let us know in the comments!
This review was originally published on 5/6/22.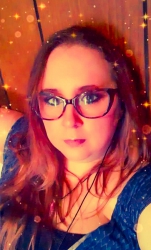 Latest posts by Becca Stalnaker
(see all)