It goes to show the level of influence Disney Plus and Marvel Studios have that a 30-second teaser will probably be the most talked about Super Bowl commercial for weeks to come. Today for Super Bowl LIV, Disney Plus aired a teaser trailer for their three upcoming Marvel Cinematic Universe (MCU) shows: The Falcon and The Winter Soldier, WandaVision, and Loki. While not giving away very much, the teaser provides a taste of the style and tone that each show conveys.
The teaser begins with The Falcon and The Winter Soldier. Captain America's shield is embedded in a tree. As a V-O of Bucky says, "It's time", the scene cuts to Sam Wilson (Anthony Mackie) practicing throwing the shield. Sam was conferred the mantle of "Captain America" at the end of Avengers: Endgame, and is apparently taking that new title very seriously.
The scene flashes to a team skydiving in wing-suits. As one whips around pointing a gun, it cuts to The Falcon flying through a canyon. Next scene is Bucky Barnes (Sebastian Stan) pointing a pistol at someone point-blank, which immediately flashes to Helmut Zemo (Daniel Brühl). Zemo is the villainous Sokovian commando behind the events of Captain America: Civil War, who was taken into custody and incarcerated by the Black Panther.
As the screen cuts to black, a doorbell rings. In a 1950s black-and-white style, Vision (Paul Bettany) is shown in a Ricky Ricardo-style outfit, welcoming Wanda Maximoff (Elizabeth Olsen) home. There's barely time to register Wanda's Lucille Ball-style dress when the trailer suddenly flashes through Wanda in a variety of classic television looks from American family sitcoms (including The Brady Bunch and Roseanne), as well as Wanda's classic Scarlet Witch costume from the comics.
As 1950s Wanda answers the phone with "Vision residence", the scene jumps to modern-day Wanda, surrounded by the same 1950s black-and-white setting, staring across at 1950s Vision. WandaVision invokes a similar feel to FX's Legion, at times nostalgic, unnerving, or both. It also makes one wonder if the Vision and Wanda the audience is seeing is real, or just some hallucination powered by Wanda's telepathy?
"The Universe is expanding", it says as the last ten seconds flash between all three shows. A man in a Captain America costume charges onto a football field to fireworks and a roaring crowd. Vision and Wanda re-enact what appears to be a scene from Full House (which is especially hilarious considering the years of rumors that Elizabeth Olsen would take over her sisters' former role as Michelle Tanner for Fuller House).
Finally, last but certainly not least, the teaser gives a first look at Loki: literally two seconds of Loki (Tom Hiddleston), in what appears to be a prison jumpsuit. Loki grins and declares, "I'm gonna burn this place to the ground." Which, admittedly, is a pretty brilliant marketing ploy on Disney Plus's part.
Loki is expected to follow the alternate universe accidentally created in Avengers: Endgame when Loki was able to escape after the Battle of New York in 2012…with the Tesseract. With an Infinity Stone at his disposal, this alternate Loki is determined to travel through time and space to alter the course of Earth's history in his favor. The show's premise is almost a soft launch for 2021's highly-anticipated What If…? series, which adapts the alternate history What If…? comic series for the MCU.
Both The Falcon and The Winter Soldier and WandaVision are expected to release as Disney Plus exclusives sometime later this year. Loki is expected to release to Disney Plus sometime in early 2021.
What do you think? Was the 30 seconds enough to whet your appetite for Marvel on Disney Plus? Or was it not enough and you're hungering for more? Keep tuned in to Geek Girl Authority for more news on Marvel Studios, Disney Plus, and more!
See the 30-second "Big Game" Spot here: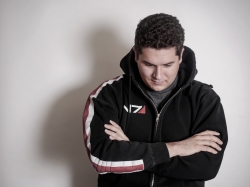 Latest posts by Tyler Boyce
(see all)