Disney has announced a brand new free-to-play game called Disney Dreamlight Valley. It looks to be a cross of elements from the Animal Crossing franchise and their mobile game Disney Magic Kingdoms, which launched several years back but had retained a loyal fanbase. We are excited to see this game announced for all systems so everyone will have access to it. It will be coming to Steam, Epic Games Store, Playstation and Xbox first. They promised a launch on Mac and Nintendo Switch being set for a later date. 
Disney Dreamlight Valley
Disney Dreamlight Valley is a hybrid between a life-sim and an adventure game rich with quests, exploration and engaging activities featuring Disney and Pixar friends, both old and new.  Once an idyllic land, Dreamlight Valley was a place where Disney and Pixar characters lived in harmony—until the Forgetting. Night Thorns grew across the land and severed the wonderful memories tied to this magical place. With nowhere else to go, the hopeless inhabitants of Dreamlight Valley retreated behind locked doors in the Dream Castle.
That's all we know about the game's story so far! Let's talk about the glimpses we got into the gameplay. 
RELATED: 8 More Dream Addresses To Cure Animal Crossing: New Horizons Burnout
Gameplay
From the announcement trailer for Disney Dreamlight Valley, I could see a blend of two distinct play styles. The first reminds me much of Animal Crossing. That comes from the elements we see of the avatar fishing, farming, cooking and gathering community members to fill their Dream Kingdom with. My favorite part of this aspect is how many gameplay hours this will extend the game's life. Free-to-play games are often plagued by countdown meters. They require you to leave a specific amount of real-world hours to continue the story, with little more offered to do while you wait. 
This element is what made me stop playing Disney Magic Kingdoms even though I genuinely loved the aesthetic of the mobile game. It reminds me so much of the mobile game because the villains take over the park story we are seeing played out in the trailer. I love Disney villains, and I think it is great they are being utilized in the story. We predict that you will have to clear areas of their influence in order to gain access to the characters and amenities trapped there, similar to the aforementioned mobile game. 
Several elements from the teaser trailer reminded me of The Sims, another famously popular life simulation game. Namely in the ability to customize your avatar and their home so heavily. There will also be an outdoor decorating feature that reminds me of all the games mentioned above. You can see it in the images below. 
Finally, while the game will be free to play at launch during the Early Access period, fans who purchase the Founder's Pack or have an Xbox Game Pass subscription will be the first to explore Dreamlight Valley. This early access will get them exclusive rewards and limited-edition items they'll retain once the game officially launches next year. After Early Access, Disney Dreamlight Valley will be free-to-play and have purchasable expansion options to enhance your gameplay.
Watch the trailer below and look at the images if you haven't had a chance yet and comment to tell us what you think! Are you excited about the new Disney Dreamlight Valley game? 
PUFFPALS: ISLAND SKIES Captures the Hearts of Backers on Kickstarter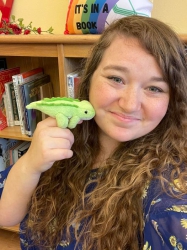 Latest posts by Lauren Darnell
(see all)