We're all excited for Thor: Ragnarok. Marvel has their marketing machine cranking out more and more viewers by the day with trailers, tv teasers and oodles and oodles of posters. However, that is not the only Marvel film coming out soon as Black Panther comes out just three months later. That film, thus far, only has one solitary teaser out, though a full trailer and a couple scenes were shown at San Diego Comic Con earlier this year.
RELATED: Footage Description from San Diego Comic Con for Marvel's Black Panther
However, as the premiere date of February 9th looms ever and ever closer, the modern rules of promotion and advertising dictate that we start to see an increasing onslaught of promotional materials and hear more and more stories from people who have seen stuff. Case in point, the Congressional Black Caucus was presented with a special sneak peek at parts of the film.
Speaking about the footage, Jason Johnson from The Root said, "The action is kinetic, like a mixture of Coogler's fight scenes from Creed and the manic bullet ballets from the Kingsman movies."
So let's break down what that would actually look like.
One of the best fight scenes from Creed was that epic four-minute long take (known as a "oner" in filmmaking parlance). The camera never cuts, it's just one, long take featuring some kinetic steadicam work in the ring during the fight — the camera was somehow part of the fight. It bobbed and weaved with the fighters, in and out of the action, up close to one fighter and then backing to a wider shot of both. Actually, instead of us trying to describe it, here, just watch it.
That's the Creed part of this — brutal, visceral and real, with actual stakes in the fight and an emotional point of view.
As for Kingsman, there are a lot of highly choreographed pieces to the action in that movie, but it's the church scene in the first one that is most likely to be the one fresh in everyone's memories. That scene shares a lot of similarities to the Creed footage in that it's edited to appear as one single shot — a oner — though it's absolutely not. There are plenty of clever cut points to hide the masterful editing in that sequence. Much like Creed, with the footage focused on just one fighter at a time, the footage here focuses entirely on Galahad, played by Colin Firth. It's rare that the hero of this sequence leaves the center of the frame, which also like Creed is all Steadicam — the camera is loose and trying to manically keep up with our hero the entire time.
The biggest difference between the Creed footage and the Kingsman footage, other than the hyper-realistic blood and gore of it, is the type of action highlighted. In Creed, it's one-on-one boxing, but in Kingsman, it's an all out brawl with everyone fighting for themselves. This sort of battle royale has multiple combatants flying in and out of the frame, giving our hero lots of people to fight in highly creative, clever and insanely cool ways. As Johnson points out, there is certainly a balletic movement to it, even if it does involve bloody stakes, knives, bludgeons and some epic gun-fu.
We have that embedded below as well, though — fair warning — if you've never seen it before, it is pretty gruesome, so watch with discretion.
Now, if we combine all of that, what we get, according to The Root, are action brutally realistic fight scenes filled with realistic characters, stakes, and emotional points-of-view all combined in highly-choreographed battle royales. However, unlike in the church scene, most of the combatants in Black Panther have been bred to fight and we're likely to see some really epic fight choreography from everyone. Not to mention, Wakanda is full of really cool tech toys.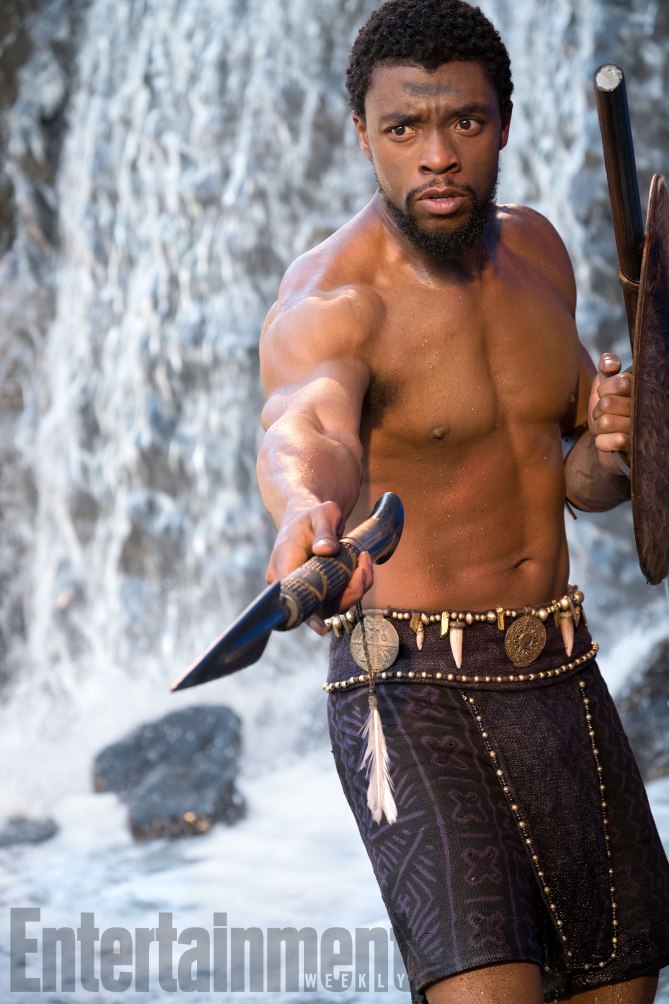 Are we all finally excited for Black Panther?
JUST RELEASE THE TRAILER ALREADY!
In the mean time, here's the teaser just to tide us all over!