When Hideo Kojima's new game Death Stranding first debuted The Games Awards in 2016, it was met with a mix of excitement and wonderment, and a dash of confusion.  I mean, how could anyone explain what they saw Guillermo del Toro's character steal away a baby in a pod? Or when Mads Mikkelsen appears in full camo, eyes lined with a mysterious black substance? The trailer was unexplainable, but it captured everyone's attention.
Fast forward to now, and we're still trying to piece together what Death Stranding is really about despite the introduction of new characters like Norman Reedus' Sam Bridges and additional supporting characters. New trailers and teasers have been released over the last 3 years and if you look at all the articles about this game, people are still scratching their heads.
But one thing we know for certain, this game will be released this year. It was announced this week that Death Stranding will be coming to the PlayStation 4 in November. For now it will be a PS4 exclusive, with plans to release the game on PC in the future.
The announcement trailer gives us much more information than previous trailers. We are introduced to new characters and we get a better idea of what this game is actually about. We also get some gameplay footage that gives us a closer look into exploration, item usage, and both melee and ranged combat.
From the trailer, the world has been torn apart and people have been split into different factions: those who want to rebuild America (aka the UCA, the United Cities of America) and those who will stop at nothing to keep their independence from the UCA (the Homo Demens). Sam has been tasked by a dying President to do what he can, but he is skeptical that he can do anything to rebuild what they've lost. And of course, the underlining threat of the Homo Demens is sure to cause Sam problems.
We also know more about the BTs, the mysterious black ooze creatures that we have seen in previous trailers. We know humans have a way of seeing these BTs by connecting to the "other side" through the use of what they call Bridge babies (or BBs). By hooking up to a BB, Sam is able to see what lies beyond normal human sight. There are also humans who are deeply connected to these BTs. 
According to a tweet by Hideo Kojima "DEATH STRANDING is not a stealth game. It is brand new action game with the concept of connection (strand). I call it Social Strand System, or simply Strand Game." In a statement to IGN, Kojima further explains, "People have built "Walls" and become accustomed to living in the isolation. Death Stranding is a completely new type of action game, where the player's goal is to reconnect isolated cities and a fragmented society. All elements, including the story and gameplay, are bound together by the theme of "Strand", or connection.
As Sam Porter Bridges, you will attempt to "Bridge" these divisions, and in doing so, create new bonds or "Strands" with other players around the globe. Through your experience playing the game, I hope you'll come to understand the true importance of forging connections with others."
With a stellar cast that includes Norman Reedus (Sam), Mads Mikkelsen (Cliff), Lea Seydoux (Fragile), Margaret Qualley (Mama), Guillermo del Toro (Deadman), Nicholas Winding Refn (Heartman), Tommie Earl Jenkins (Die-Hardman), Troy Baker (Higgs), and Lindsay Wagner (Amelie), and game design by Hideo Kojima, this game has Game of the Year potential.
Death Stranding is set to release on November 8, 2019 for the PlayStation 4. You can pre-order the game now and get the Digital Deluxe Edition, Special Edition, or Standard Edition. There is a Collector's Edition that comes with a custom Steelbook, BB Pod, a Ludens Key Ring, 10 PSN Avatars, and in-game items.
You can watch the trailer below and see what you can make of it!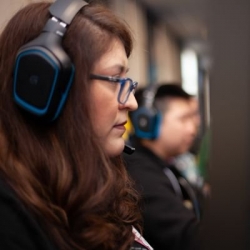 Latest posts by Renee Lopez
(see all)