If you ever wondered why Dame Judi Dench is beloved by fans young and old, then look no further than the latest LADBible video which shows her amazing rap talent as she performs with UK grime artist Lethal Bizzle.
The video comes right before the release of her latest movie Victoria & Abdul, a biographical comedy-drama that tells the real-life story of Queen Victoria (Dench) and her Indian servant Abdul Karim (Ali Fazal). The movie is a sequel to the 1997 movie Mrs. Brown and will be released in the United States on September 22nd.
The video, which you can watch below, is just good, awesome fun. It starts with Lethal Bizzle presenting the Dame with her own swag, including a fabulous cap that says "Stay Dench." 
RELATED: Dame Judi Dench Asks Daisy Ridley All the Questions We Want to Know
The rest of the video is Lethal Bizzle introducing her to two of his hit songs, "Pow" and "Celebrate." While he reads her the lyrics to his song "Celebrate," he does have to tell her what some of those lyrics mean, but I have to say, only she could make "Anywhere I go, gang rollin'" sound like lines from Henry V. 
Judi Dizzle then joins him in the song "Pow" that he remixed to include the lyrics 'Pow! Yeah, I'm Ju to the Di. Pow! If you don't know about me." She comes in with enthusiastic and well-timed "Pows!" and it's glorious.
It's just one more reminder that we should all strive to be Dame Judi Dench.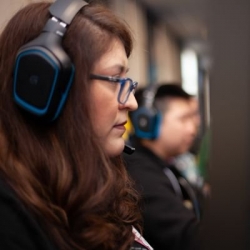 Latest posts by Renee Lopez
(see all)