A prequel to the 2019 "live-action" The Lion King was announced today at D23 Expo 2022. Titled Mufasa: The Lion King, the story will be set before the events of the first movie and follow Mufasa's rise to the top of the pride. 
Rumors of this project have been circulating for a while as fans speculated about the status of its early development. Finally, new details have been revealed, including a projected release date of 2024. 
RELATED: D23 Expo 2022: The Little Mermaid Teaser Trailer Shows Us Ariel's World
The movie will be directed by Barry Jenkins, who spoke on the direction of Mufasa: The Lion King. He said, "I had to make this movie. Because when I was 14 I was raising two nephews and there was a VHS tape that we watched about 95 times in the span of two days. I was thinking about Mufasa and how he becomes great… I am not a king, I am not a king… Mufasa is great because of the family and friends he has with him."
Along with the inspiration behind the choice to do a prequel rather than following Kovu's story in Lion King 2, we get an idea of the plot from a new teaser. 
The teaser starts at Pride Rock with narration from Rafiki and a melody from the infamous Lion King soundtrack. A sweeping of the Pridelands shows us a young Mufasa caught in a flood and washed away. Now the orphaned cub will be forced to navigate the harsh world of the savannah alone, mirroring the feelings his son will go through in the next installment. 
RELATED: Eman Esfandi Travels to Galaxy Far, Far Away for Ahsoka
That being said, I don't think we will see too many familiar faces. In fact, the fan-favorite meerkat and warthog duo were noticeably absent from the action. All we hear is a quick comment from Timon, who says he doesn't feel seen. A very on-the-nose confirmation that we will not see them return in Mufasa: The Lion King.
Are you excited to see more of Mufasa's story? Were you a fan of the first live-action, CGI Lion King movie? Tell us your thoughts in the comments, and keep an eye on Geek Girl Authority for more D23 Expo 2022. 
Mufasa: The Lion King. 2024. pic.twitter.com/7rhorK8oLF

— Disney D23 (@DisneyD23) September 9, 2022
D23 EXPO 2022: It's Just a Bunch of You Know What in HOCUS POCUS 2 Trailer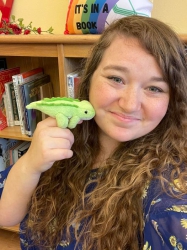 Latest posts by Lauren Darnell
(see all)