The Level Up! Video Game Showcase was something to behold at Disney's 2017  D23 Expo! With Marvel, Star Wars, and Pixar, all properties under the Disney Company, one could only imagine what games would be featured at this event. There were freebies, world premieres of new games and even a few guest appearances! The event was hosted by popular video game streamers Jacksepticeye and Strawburry17, and highlighted the upcoming Disney property games coming out in 2017 and 2018.
STAR WARS: BATTLEFRONT 2
The first game to kick off Level Up, was Star Wars: Battlefront 2.  This game takes place immediately after Return of the Jedi. With the Empire finally defeated, we are presented with a galaxy at the beginnings of reconstruction. We got to hear from Janina Gavankar, who voices Iden Version, the main character of the Single Player Campaign. Iden Versio is a Commander of the Imperial Army. After witnessing the second Death Star's destruction, she must make choices as an Imperial Soldier in an order-less galaxy. Gavankar remarked on how special the development was for the game, "Actors were given access to writers, producers, directors, and military consultants to make this an authentic Star Wars story". 
Moreover, when asked about why use video games to tell these Star Wars stories,  Steve Blank gave his insight. Blank, a member of Lucasfilm's Story Group, responded "One of the great things about video games is that you actually get to inhabit a character…you get to be a Commander in the Empire during this very challenging time". Outside of the campaign, players will get to fight across all three Star Wars eras in Multiplayer mode. This includes the prequels, the originals, and now, the sequels. The game will additionally feature incredible in-space combat. Finally, to conclude the presentation, John Boyega made a surprise appearance. Boyega not only appears as Finn in Battlefront 2, but he's also a huge fan of the Battlefront series. Star Wars: Battlefront 2 hits stores November 17th, 2017.
STAR WARS AUGMENTED REALITY
One D23 Exclusives was the announcement of the Star Wars Augmented Reality projects that are currently in production. Augmented Reality is the technology that allows you to combine computer generated objects with the real world. Mike Goslin, the Vice President of Advanced Development at Disney talked about upcoming Star Wars AR games we can expect. What was first highlighted was the unique AR headset that Lucas Films and Lenovo have created together. This AR headset will be specific to the Star Wars AR games. We can expect ACTUAL Holo Chess from Star Wars: A New Hope, and the ability to conduct various Star Wars battles at your own command from these games.  More information about these projects will be available in the coming weeks.
Additionally, another Star Wars AR game that was announced is Star Wars: Jedi Challenges. This unique AR game creates the fantastical experience of wielding a lightsaber in your hands. The AR Headset AND the Lightsaber base are required in playing this game. According to the Jedi Challenges website, the game is "Coming Soon to Best Buy and Lenovo.com". No further release dates have been announced. 
SPIDER-MAN
Marvel and Insominac's Spider-Man was the hit of E3 2017. At D23, we recieved some more information about the upcoming web-slinger's game. This game is based off the Ultimate Spider-Man comics, and features a Spider-Man in the prime of his career. Bill Rosemann, the Executive Creative Director at Marvel Games remarks, "It's gonna be massive. But at the same time, we're really telling a very personal and human story". The duality of Spider-Man and Peter Parker will be a huge theme of the game. Also, Spider-Man hosts a huge cast. The game will feature characters we're familiar with, new characters, and LOTS of villains. 
Likewise, Brian Allgeier, Head Director for Insomniac Games, addressed gameplay questions and remarks. Spider-Man is "The Acrobatic Improvisor", and Brian noted that that element of this superhero was crucial in designing the game. Your environment is also a tactical tool in taking out enemies. You can always go for the old fashioned one-two-punch. Or you can use the objects around you and the levels of the landscape to execute impressive Spider-Man moves. Brian concluded with reassuring the public that the web-swinging physics were just getting better and better, and to stay tuned for more information about this game. Spider-Man is set to be released in 2018.
MARVEL POWERS UNITED VR
Another world exclusive premiere at D23 was for Marvel's newest VR game, Marvel Powers United VR. In this game, players can play as a variety of Marvel Superheroes with people from around the world. The three characters we were introduced to at D23 were Rocket Raccoon, Captain Marvel, and the Hulk. Each character has their own set of abilities and powers, as well as perspective. As the Hulk, you'll tower over enemies. While as Rocket, you'll be looking up at your enemies most of the time…until you use your jetpack! This year at San Diego Comic Con, fans will be able to demo this game. Additionally, another character will be revealed for the game at SDCC. Marvel Powers United VR is exclusively for the Occulus Rift + Touch, and will be available in 2018.

KINGDOM HEARTS III
Kingdom Hearts III is arguably the most anticipated game at the Level Up! Video Game Showcase. They saved the best for last. The Kingdom Hearts series is celebrating their 15th Anniversary this year. And it's been four years since Kingdom Hearts III was announced at E3 2013. There was not a ton of new information for the game this year at E3, and now we know why. Square Enix gave us an exclusive look at the newest world announced: Toy Story. A full gameplay trailer was released for this world, including cutscenes. We got a glimpse of Sora fighting heartless outside of Andy's home. As well as piloting a mechanical robot toy while fighting giant toy-like heartless. Pixar is now officially a part of the Kingdom Hearts universe. 
In addition to the reveal of the Toy Story World, we finally recieved an updated release date for the game: 2018. Let's hope that Square Enix is able to keep on track with this release date. By the looks of the gameplay trailers, and the rate at which we've been receiving new information about the game, production seems to be going well.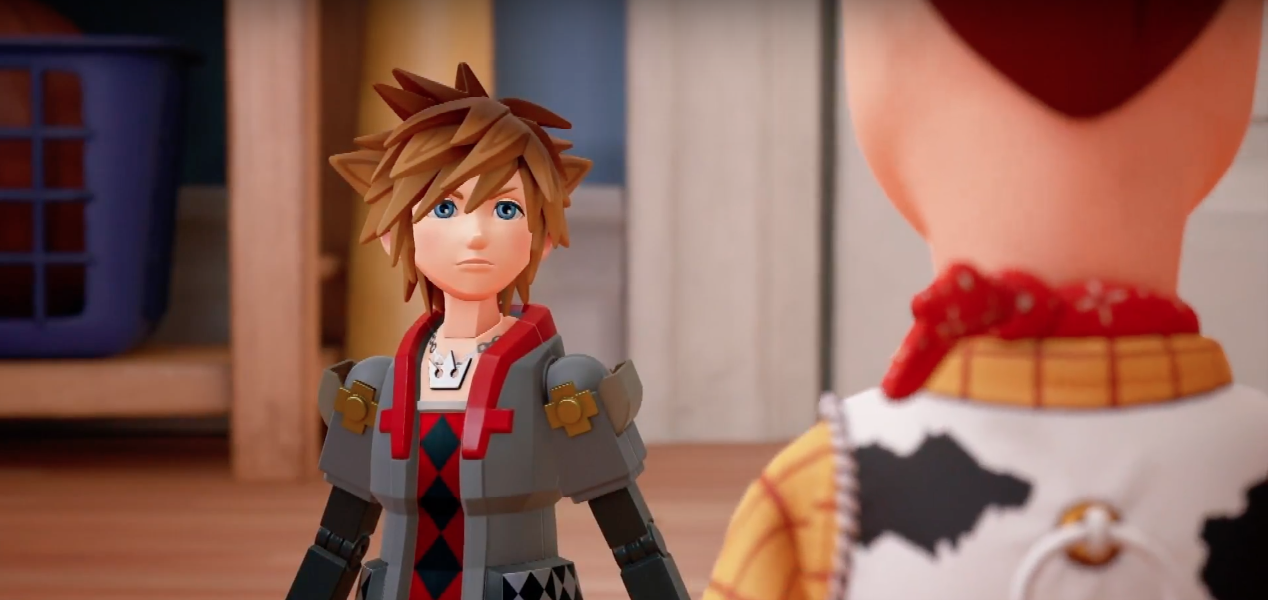 Overall, I was truly impressed by the Level Up! Video Game Showcase. It honestly felt like a press conference at the E3 level. The event was well executed, and even concluded with a fun dance number featuring the Toy Story characters. When we think of the Disney Company, we namely think of the films. Now, with the success of it's properties in games to come, I hope we can also see Disney as a successful video game company as well. 
Latest posts by Emily Rose Jacobson
(see all)