Crunchyroll is the leading provider of anime entertainment, and they have committed to bringing fans brand-new anime movies starting this month. These titles were recently released in select theatres, so this will be the first time most audiences will have an opportunity to watch them. These seven films are being released on top of an already-packed April schedule for Crunchyroll. 
April is the start of spring anime season and is packed with new offerings to fill your watch time. Read our monthly Anime Roundup column, where we give you a detailed list of what anime is coming your way every month. 
RELATED: Check out more from our Anime Roundup series!
That Time I Got Reincarnated as a Slime The Movie: Scarlet Bond
This movie will be a stand-alone story that takes place after the second season of the fan-favorite series That Time I Got Reincarnated as a Slime. A long-running conspiracy is swirling over a mysterious power wielded by the Queen in Raja, a small country west of Tempest. When a slime who evolved into a Demon Lord named Rimuru Tempest crosses paths with Hiiro, a survivor of the Ogre race, an incredible adventure packed with new characters begins. The next installment of this big adventure hit the small screen on April 20. 
To Every You I've Loved Before
While struggling to make friends after his parent's divorce, Koyomi Takasaki meets Kazune Takigawa, but not for the first time, or not in this universe at least. Kazune reveals that she's from World Line 85, an alternate universe in which she and Koyomi are lovers. See if love lasts through time and dimensional shifts on April 20. 
RELATED: 6 Things We Love About Trigun and You Should Too
To Me, The One Who Loved You
Koyomi Hidaka and Shiori Sato meet at his father's research center and begin to fall in love, but so do their parents, who eventually marry. To avoid becoming stepsiblings, they decide to run away to a parallel universe. Traveling between dimensions is common in their world, but not without repercussions. Does a universe exist for the young couple, and what will it cost them to find it? This movie is also debuting on April 20. 
The Quintessential Quintuplets Movie
When five lovely young girls who hate studying hire part-time tutor Futaro, he guides their education and their hearts. Time spent has brought them all closer, with feelings growing within the girls and Futaro. As they finish their third year of high school and their last school festival approaches, they set their sights on what's next. You'll only need one screen to watch this movie starting April 27. 
RELATED: 6 Underrated Anime You Might Have Missed in 2022
Mobile Suit Gundam Cucuruz Doan's Island
After a covert mission goes wrong, Mobile Suit pilot Amuro Ray and his comrades are stranded on a remote island. The battalion was sent to the Island of No Return to clear off enemy forces, only to find a group of children and an enemy mecha attack. Now Amuro must find a way for them all to escape this mysterious land. Strap in for an adventure of epic proportions starting April 27. 
Free! -the Final Stroke (Part 1)
This final movie is a highly anticipated two-parter. As representatives of Japan, Haruka, Rin and Ikuya are heading to Sidney to participate in the Swimming World Cup. They will finally compete with world-class athletes, but can they survive these games? Catch the climatic ending to the Free! series on April 27.
Free! -the Final Stroke (Part 2)
After his first appearance on the competitive world stage, Haruka was overwhelmed by Albert's swimming and lost his way. "What are you swimming for?" His reason for swimming and what the water means to him are called into question. The question has trapped Haruka, and he struggles to find the answer independently. You won't have to wait; part two is also premiering on April 27. 
Which movie will you be clearing space in your anime schedule to watch? I know I won't be missing That Time I Got Reincarnated as a Slime The Movie: Scarlet Bond. Comment to tell us what you will be watching!
That Time I Got Reincarnated as a What? 6 Most Bizarre Isekai Anime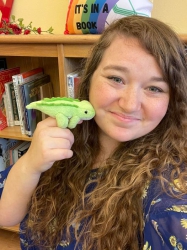 Latest posts by Lauren Darnell
(see all)