Fans haven't taken in a Crunchyroll Anime Expo since 2019 but this year, it is making its return. Crunchyroll has announced that the 2022 Anime Expo will be held at the Los Angeles Convention Center from July 1 – 4, 2022.
This is the first Anime Expo to be held since the Crunchyroll-Funimation merger, meaning it will be the largest one to date with both companies' properties in one place. Fans can expect a bounty of offerings ranging from insightful panels of the hottest new series, interactive activations, world premiere screenings, exclusive merch and more.
RELATED: Crunchyroll Migration Adds More Anime Starting May 31
The proposed floor plan is absolutely packed with spaces that showcase old fan favorites and the hottest new anime alike. At the main activation (Booth 3000), badge holders can stop by to pick up free drawstring bags that feature a different anime series each day. These bags will include items like Aoashi and Rent-a-Girlfriend Season 2 character photo frame cards, and a That Time I Got Reincarnated as a Slime stress ball among other promo items while supplies last.
Guests can also visit the booth to enter to win awesome prize packs; photo opps with The Rising of the Shield Hero characters Naofumi, Raphtalia, and a giant 10' tall Filo. Be sure to also check out a shikishi (autographed art boards) gallery with over 40 artists and stop by to play the latest titles from Crunchyroll Games library on the convention floor. 
Crunchyroll will have its merch store (Booth 1600), which will include over 30 collector-worthy products and apparel as well as exclusives, including a Funko Pop! figure of Dragon Ball's Piccolo sporting his iconic driving school outfit. (Feel free to snag me one!) 
Fans are invited to check out panels hosted by Crunchyroll that will include special guests from around the world to discuss SPY x FAMILY, JUJUTSU KAISEN, Ranking of Kings and the highly anticipated Chainsaw Man. Fans will also get a first look at world and international premieres of upcoming anime such as YUREI DECO, Classroom of the Elite Season 2, BLUELOCK, Shine On! Bakumatsu Bad Boys!, and more.
RELATED: Anime Roundup: All the New Shows Coming Out in June
The expo will feature the North American premiere of the two Kamen Rider Season 5 OVAs. Fans can also look forward to the world premiere screening of the first two episodes of FUUTO PI which will be co-presented by Crunchyroll during Bandai Namco's Kamen Rider panel.
Can't make it to California? Yeah, me either but thankfully Crunchyroll will be hosting daily recaps on its Twitter, Instagram, TikTok, and YouTube Channel. Go ahead and give those a follow early so you don't miss the highlights from each day including the panels, cosplay, fan interviews and collectible features. It'll *almost* be like we are there, almost. 
Phew! That was a lot to get through. Want to see what else you can look forward to? The anticipated Anime Expo 2022 lineup of panels and screenings can be found here! The schedule is subject to change so be sure to double-check it closer to the event. 
CRUNCHYROLL EXPO 2022 Announces New Music Fest Featuring ATARASHII GAKKO!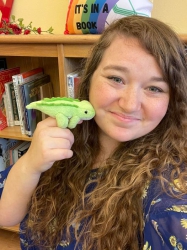 Latest posts by Lauren Darnell
(see all)