In a Twitch livestream entitled "State of the Role 2021", Matthew Mercer, Marisha Ray and Travis Willingham announced the premiere of the upcoming Campaign 3 for the long-running and award-winning Critical Role web series. "It's Been A While" since we have heard from Critical Role. True, it has only been three months since the Campaign 2 finale (and only a month since the Exandria Unlimited finale). However, as a calm and soft-spoken satyr once said, "Time is a weird soup."
RELATED: A Gift Guide for the Dungeons and Dragons Adventurer On Your List!
Travis, Marisha and Matt announced that Campaign 3 will air next month on October 21st at 7:00 pm Pacific! In addition, the cast revealed that Campaign 3 will be set on the continent of Marquet. (A setting hinted at by the art reel before and after the Exandria Unlimited livestreams.) 12th century Turkey and Palestine inspired the cultures and architecture of this desert continent. Beyond the grand and powerful city of Ank'Harel, centuries-old ruins and secrets lie buried beneath sand and ash.
Much like Exandria Unlimited, Critical Role will be pre-recorded and feature everything we know and love. Including the cast and guest Dungeon Masters throughout the series. Don't worry, Critters: Matt will still be DM for most of it. The cast just wants to give other storytellers (like Aabria Iyengar) their turn at the wheel. Critical Role will also take a break on the last Thursday of every month. This will give them a chance to organize behind-the-scenes and give Critters a chance to catch up on old episodes.
A sad bit of news is that Critical Role will no longer feature an art reel. A weekly "Fan Art of the Week" gallery will still be featured on their website. This is a bit of disappointing news for Critters who enjoy listening to some classic Colm McGuinness music while seeing the amazing creativity of their fellow Critters. In addition to the normal livestreams on Twitch and YouTube, the Dungeons & Dragons web series is making the leap to the silver screen. Yes, you read that right: Critical Role is also airing in select movie theaters! Check your local Cinemark to see if Critical Role is showing at a theater near you?!
We've linked the full announcement down below for you to enjoy! Are you excited about campaign 3? What is your guess for everyone's new characters? Let us know in the comments below and on social media!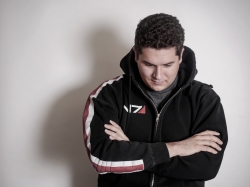 Latest posts by Tyler Boyce
(see all)