The world of live-streaming has been no less affected by the ongoing COVID-19 pandemic. On March 17th, Critical Role made the difficult decision to temporarily stop its live Twitch broadcasts. Some Critical Role fans (colloquially known as "Critters") have taken advantage of the hiatus to flex their creative muscles. Today, we at Geek Girl Authority wanted to spotlight one such creation. 
A running gag on Critical Role is the cast singing the 2001 rock song "It's Been A While" by Staind. According to the data analysis site CritRoleStats, the joke began in "Perspective" (Campaign 2, Episode 59), and has persisted in numerous episodes and one-shots since.
Taking the song as inspiration, a Critter known as Kavo350 created a parody version of the song. The song focuses on a few highlights from Campaign 2 thus far, including the huge cliffhanger the show was left on where the Mighty Nein's ship was being pursued by an amphibious dragon turtle!
RELATED: WILDEMOUNT WRAP-UP: New Dungeons and Dragons Subclasses
As much as Kavo and other Critters miss the Dungeons & Dragons stream on Thursdays, he made sure to emphasize that the cast's health and safety takes priority. "It's a scary time right now and the last thing we [Critters] need is anyone in the Crit Role family getting sick from this," Kavo writes, "Take all the time you need and when you [Critical Role] all believe the time is right, we'll be here waiting for you."
Critical Role's pre-recorded content features new shows like Narrative Telephone (a show inspired by the popular children's game and conducted through video conferencing) and AWNP: Unplugged (a more stripped-down version of the All Work No Play podcast by Liam O'Brien and Sam Riegel).
RELATED: CRITICAL ROLE Is Playing Narrative Telephone with a Wildemount Twist
During the hiatus, Critical Role fills its Thursday time slot with rebroadcasts of previous episodes. Tonight's rebroadcast at 7:00 am Pacific is the special Honey Heist one-shot GMed by Marisha Ray, known as Honey Heist 2: Electric Beargaloo.
Don't forget to love each other, now more than ever. It's almost Thursday.
"It's Been A While" parody song by Kavo350:
This article was originally posted 5/15/20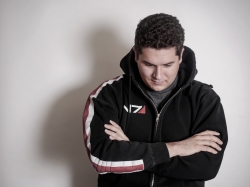 Latest posts by Tyler Boyce
(see all)