Cozy Grove has received a fresh spring update and its first paid DLC! For anyone who doesn't already know, Cozy Grove is a single-player social simulator from developer Spry Fox for the Nintendo Switch, PlayStation 4, Xbox One and PC. You play as a new spirit scout (think girl/boy scout but for ghosts) who is stranded on the titular island of Cozy Grove after a storm blows away your boat. Your mission is to help the resident ghosts, who are all bears, come to peace with their lot in the afterlife and uncover the island's secrets.
The island has continued to be updated as the seasons roll in with little festivals, new seasonal NPCs and quality of life updates, but this one is big! The DLC comes in at just $6.99 and is a steal of a deal for all of the content that it packs, in my opinion. I'm a fan of paid DLC, though, as it helps support the game developers, especially on games with a modest purchase point in the first place, like Cozy Grove or Stardew Valley. That being said, Cozy Grove is a game of perpetual mystery, so there are a few things that aren't as easy to figure out at first glance! This is our list to help you cut through the fog!
Just as a warning, we will be talking about the new spring update and aspects of the DLC. So consider this is your spoiler warning if you want to go into it knowing nothing. Save this article and circle back when you are ready!
RELATED: Video Games That Will Make You Feel Loved on Valentine's Day
Butterflies
An entirely new classification of bugs has been added to the game, butterflies! Butterflies come in both different wing variants and color variants, just like other bugs. They are a simple addition, but one that always felt like it was missing from the Cozy Grove. You find them and catch them the same way as other bugs, so keep a watchful eye!
Ms. Carouse
Ms. Carouse is a merchant bear that appears in the seasonal NPC space on the beach. She reminds me a little of the Ghost of Christmas Present from A Muppets Christmas Carol with her cheerful attitude and memories of a thousand springs gone by. Her back is loaded down with oversized floral blooms and she sports an eerily familiar mask that looks quite a bit like another merchant we know. You can buy spring clothing, craft dyes or peas for ducks and even pick up some rare orchids needed for special crafting projects. 
Orchids
Spring has sprung in Cozy Grove, which means new flowers are waiting to bloom. Orchids have been added to the island as a growable and foragable resource. As a resource, these blooms can be donated to the Captain's collection and count toward completing the new badge requirements. Orchid blooms come in several different varieties and can be used for crafting or dyeing, earned from quests, grown in pots that disappear after a single harvest or found randomly in forage piles around the island. They take one full day to bloom and even though they say something about needing fresh water, there's no way to water them. 
Fresh Water
Speaking of freshwater, remember how the original dowsing rod we made doesn't actually find water? Well, we now have one that does! Ms. Carouse sells a special crystal dowsing rod for a modest 1,000 coins. This helps locate springs of freshly melted snow under the ground. This is used as a crafting element and form of currency, much like the snowflakes did during the winter festival and doesn't water anything like the new item descriptions might lead one to believe. To use it is the same hot/cold system but with dry and wet symbals instead. When you get three drops of water, you'll find water and then X marks the spot. 
RELATED: Horizon Zero Dawn: Retracing Aloy's Steps Once More
Ducklings
You will hear about ducklings long before you see one! These are by far the cutest addition to Cozy Grove. They can be found by dancing in the forage piles that have feathers in them. You can find one duck nest per day in these piles hidden somewhere on the island. Once placed, the nest will look empty for a day, then an egg will appear the following day and finally, on the third day, the egg will be hatched open and an adorable duckling will be in its place.
The ducks will follow you around and can be fed food that you craft with Ms. Carouse. The duck food costs 20 nut flour and 20 mixed greens, which will yield 20 bowls of peas to feed the ducks. You just toss it to them like you do the imps and at the end of the season, the ducks will leave you a gift. 
Dyes
Francesca DuClaw, the recycling bear, has new dye options that allow you to change the color of decorations. The process is very simple. First, you'll need tins of flower pigment to make the base dyes, and then you'll be able to mix dyes to get new ones! Some dyes have the limited edition tag, which means they will be gone after spring, so get those mixed up quickly!
New Neighbears
There are four new neighbor bears coming to Cozy Grove with the DLC expansion. But, with growing pains comes some loss too. In order to welcome these bears, we will have to say a final and permanent goodbye to Ursula Pine, Bruin Tram, Clyde Wallace and Arjun Bhalla. It is a bittersweet goodbye as they move on to whatever comes next in the afterlife for ghost bears, but it means there will be new friends to help through their pain.
This will only trigger if you have helped all of the original 17 bears reach peace. Once you do, you'll meet party bear Archie, perfectionist Ben, shy-as-a-mouse Lillian, and collector Beatrice. It will take some time to get to know their sorrows and stories, so I don't have much on them yet for you, but I'm sure we won't be disappointed by their appearance, even if we are saddened to lose the others. 
RELATED: Love Free to Play Games? Check out F2P Friday for your next must-play!
Odds and Ends
A big part of the update was some quality of life changes! When players are in a game for the long haul like Cozy Grove, some aspects often have to be adjusted. This helps keep the end game excited for dedicated players. Here is a list of features that Sly Fox gave us to help keep up with these demands:
Flamey can add a fifth room to your tent and will give you little hints!
SO. MANY. NEW. ITEMS- EEK! 
Turn up the sound; there's a new background music track!
You can buy a new gold storage chest from Pandam. This is great if you're a late-game player with way too much gold in your inventory.
Bonus: unique new clothing that you'll automatically receive upon purchasing the DLC
Second Bonus: some free expansions for your clothing closet!
Third Bonus: a free, special house cat that has the sweetest, pastel color palette yet. 
There you have it! That is everything you need to know to dive into the Cozy Grove spring update and New Neighbears DLC! Have you gotten the DLC yet? Did you find any quality of life updates we haven't run across yet? Tell us in the comments!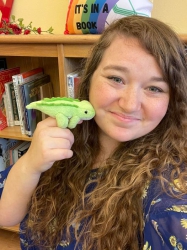 Latest posts by Lauren Darnell
(see all)