June is a defining year with a wave of highly anticipated titles launching. If you have a cozy gamer in your life, cancel all plans with them for the rest of the summer. They'll only be seeing their couch and cat. It's too hot to go out anyway, right? We have a lot to get through, so without further delay, let's get into what you'll be playing on your Nintendo Switch in June 2023.
Boxville – June 1
Newly released at the beginning of this month, Boxville is already making waves and winning awards. This puzzle game is about silent, humanoid cans living in a city of boxes. The animated sections of it are brilliant to watch, even without voice acting. Start your adventure in Boxville now on Nintendo Switch here.
Constellations – June 1
Constellations is a meditative, minimalist puzzle game about finding patterns in the stars. Increase mindfulness, concentration and focus through a conversation with the stars. Evade everyday life as you build constellations in the sky. Constellations is available on the Nintendo Switch now. 
RELATED: Nicolas Cage Enters the Fog in Upcoming Dead by Daylight Chapter
Dreamy Trail – June 6
Dreamy Trail is a game that allows you to explore the lush forest environment at your own pace. The game mechanics are simple, intuitive and designed to provide a relaxing and calming experience. The game focuses on item hunting, which adds depth to the story and unlocks new areas for you to explore. This walking simulator with puzzle aspects is available on Nintendo Switch here.
Inhabit – June 8
Make your way around your home and surrounding areas, practicing healthy habits and exploring the world in this short open-ended slice-of-life puzzle game. You may even make some friends along the way. You can let mindfulness Inhabit your life on Nintendo Switch here. 
Talk to Strangers – June 8
In Talk to Strangers, you go door-to-door, striking up conversations ranging from bizarre to mundane while trying to sell products to, well, strangers. Each step of the conversation can increase or decrease your Rage, Depression and, most importantly, your sales. Fans of games like Coffeetalk will find much to love in Talk to Strangers on the Nintendo Switch here. 
RELATED: GGA's Most Inspiring Female Video Game Characters
Smushi Come Home – June 10
Play as a tiny lil' mushroom lost in the forest and can't find its way home. Explore unique areas freely at your own pace, chat with friendly inhabitants and take on different adventures to get back home. Smushi Come Home is available on Steam and Nintendo Switch now.
Fall of Porcupine – June 15
Fall of Porcupine is a unique, cozy 2D side-scrolling adventure game that follows Finley as he seeks to find his way through a new chapter of his life. Finley becomes a medical practitioner for Porcupine, but something isn't right. Finley's adventures lead to themes such as death, illness, mental health and grief with approachable storylines, relatable characters and resonating dialogue. Fall of Porcupine is launching on all consoles, including Nintendo Switch, on June 15.
A Little to the Left: The Cubbards and Drawers DLC – June 27
Sort, stack and organize household objects into particular arrangements in A Little to the Left, a tidy puzzle game with a mischievous cat who likes to shake things up. The upcoming DLC cleans out the cabinets and secret compartments of the home with 25 delightful new Cupboards & Drawers-themed puzzles, where you can discover even more charming illustrations and surprising scenarios. Find A Little to the Left on Steam and Nintendo Switch now, with the DLC coming June 27. 
RELATED: Take Another Cross-Country Road Trip Inspired by Video Games
Story of Seasons: A Wonderful Life – June 27
Cozy gamers got a great look at character customization, new facilities, new hybrid crops and more in this latest trailer for Story of Seasons: A Wonderful Life. For anyone not familiar, this is a remake of the farming and life sim classic game previously known as the Harvest Moon series. Story of Seasons: A Wonderful Life is coming out on all next-generation consoles, including Nintendo Switch, on June 27. 
Little Friends: Puppy Island – June 27
Get ready for a pawsome puppy adventure in Little Friends: Puppy Island. Discover exciting locations, dig up hidden treasures, build and expand your holiday resort and meet plenty of lovable little friends to care for on your own un-paw-gettable, tropical island adventure. You can play Little Friends: Puppy Island on Steam or Nintendo Switch starting June 27. 
Which cozy game are you downloading to help beat the heat this summer? Did we miss any June releases that have been on your radar? Comment to tell us what you are playing!
This article was originally published on 6/13/23.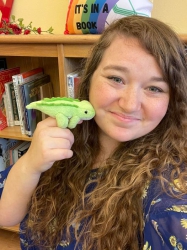 Latest posts by Lauren Darnell
(see all)