#SaveConstantine hashtag users and Matt Ryan fans rejoice! The CW has announced that Constantine will be back as an animated series on CW Seed. It joins fellow DC animated series, Vixen, which has two seasons worth of episodes available and two Justice League animated movies: Justice League: Doom and Justice League: Crisis on Two Earths.
Greg Berlanti and series co-creator David S. Goyer will be a part of the animated series with Matt Ryan coming back to voice John Constantine.  No word on if any other cast members will be coming back to reprise their roles. I assume not, but it would be nice to see Charles Halford (Chas Chandler), Angelica Celaya (Zed Martin) or Harold Perrineau (Manny) come back.  It has been reported that at least five 10-minute episodes have been ordered, but with no release date yet announced.
In addition to the animated series, CW Seed also has all 13 episodes of Constantine which originally aired on NBC from 2014-2015 but was canceled due to low ratings.  Despite the lack of heavy viewership, Constantine maintained a loyal fanbase so when it was canceled, they launched an impressive online campaign to save the show using the hashtag #SaveConstantine.  The campaign had backers like William Shatner, Mark Sheppard (Supernatural), and Stephen Amell (Arrow) who even offered to guest star on the show. There was also a big push to get another network to save the show including Netflix and Amazon, but ultimately everyone looked to The CW to come through. While The CW didn't exactly save the show with a Season 2, by bringing on Matt Ryan to guest star on Arrow, they at least showed the fans that Constantine was not completely dead.
So it looks like we finally got our wish, albeit in animated form. Still, it will be great to see Matt Ryan again in a role that he is absolutely perfect for. If we're lucky, maybe we will see him again on Arrow or Legends of Tomorrow.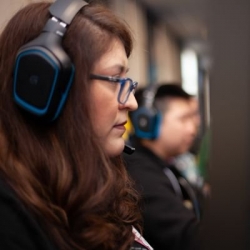 Latest posts by Renee Lopez
(see all)