As it was reported yesterday by multiple outlets, Forbes accidentally revealed that Diablo III would be released for the Nintendo Switch later this year. While it was a "rumor" yesterday, it has been made official today. Diablo III: Eternal Collection is coming to the Nintendo Switch.
"The Eternal Collection is the definitive version of Diablo III, and we're thrilled to team up with Nintendo to unleash it for Nintendo Switch gamers around the world later this year," said Mike Morhaime, CEO and cofounder of Blizzard Entertainment in the official press release. "Bringing the world together through epic entertainment is core to our mission at Blizzard—we can't wait to welcome a new generation of demon-slayers to Sanctuary."
"At Nintendo, we're huge fans of rich and compelling games that speak to players around the world," said Reggie Fils-Aime, Nintendo of America President and COO stated. "By partnering with companies like Blizzard, we're able to create new ways of engaging with beloved content. Blizzard and Nintendo share a commitment to redefining the way people play games, and with Diablo III Eternal Collection for Nintendo Switch, that means players can now explore the vast world of Sanctuary anytime they like, and anywhere they go."
RELATED: GGA Game Review: Rend Brings Fantasy Survival RPG to Midgard
The Eternal Collection will include the Reaper of Souls expansion and Rise of the Necromancer pack along with in-game goodies and Switch-only features.  There will also be some content updates including Challenge Rifts, Themed Seasons, and Kanai's Cube.
Of course, the portability of the Switch makes playing Diablo III fun for the whole demon-slaying gang. Up to four players can play on one Switch, or four Switches can be connected without an internet connection. Online play is also available through the Nintendo Switch Online service.
Now because this is the Switch, it is no surprise that we would also be getting Nintendo-themed bonus items. These bonus items include the Ganondorf cosmetic armor set, Cucco pet, Tri-Force portrait frame, and the Echoes of the Mask wings.
Diablo III: Eternal Collection will be a hefty $59.99, but the option of running around in a Ganondorf outfit is easily worth $20. For more information visit the website.
Gallery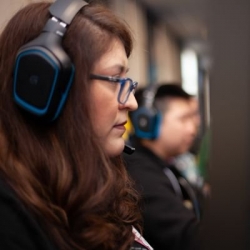 Latest posts by Renee Lopez
(see all)