God of War drops on April 20th and the reviews have been nothing short of stellar. The newest installment of the God of War series has garnered praises from major outlets and gaming sites and for many of us that's not a surprise. Santa Monica Studio has put their time, effort, and extraordinary talent into the development of this game.
Leading up to the game's release, PlayStation had been releasing featurettes of behind-the-scenes action including Troll design, voice acting localization, the story of Kratos' internal journey, and composing the soundtrack.
"When Santa Monica Studio asked me to compose the score to the new God of War, I was awestruck, because I'm such a fan of the original games in the franchise. As I collaborated with game director Cory Barlog, it became clear that this new game would require wholly new music that did not revisit the memorable scores of the original games, but instead ventured forth into new musical territory. I took my memories of that classic God of War soundtrack – the deep choirs, pounding drums, and shrieking brass – and reinvented them for a Norse age. I wrote new themes, and introduced to the music exotic instrumentation and languages from various Northern European folk traditions," stated composer Bear McCreary in a PlayStation blog post.
RELATED: Next World of Warcraft Expansion Battle for Azeroth Is Arriving in August
If you don't know Bear McCreary's work, then you definitely need to give it all a listen. In fact, chances are you're watching a TV show right now that he's either scored or produced. His work is extensive and upon hearing it, his music has certain characteristics that are all his own. I first heard his work on Battlestar Galactica and its memorable opening credits theme. Since then he has composed the music to TV shows such as Terminator: The Sarah Connor Chronicles, Human Target, Trauma, Caprica, The Cape, Daybreak, Eureka, Intruders, Constantine, Defiance, Damien, Black Sails, Outlander, Agents of S.H.I.E.L.D., and The Walking Dead. He's also written the music for movies like Happy Death Day, Knights of Badassdom and The Cloverfield Paradox.
In talking about his approach to God of War, McCreary deliberately focused on the characters. In thinking about the Kratos theme, he happened upon three distinct notes and those notes evolved into the theme we'll hear throughout the game. Hearing him tell the story, it is amazing to know that these notes were not intentional but rather afterthoughts that he tagged on at the beginning of the music.
"I wanted to write something that represented age, wisdom, power, masculinity."
Throughout the game, the Kratos' theme will go through many variations. We'll hear the powerful, stern, and imposing theme that uses heavy drums and low brass, but in other parts we'll hear a more delicate and gentler approach to it. And it won't just be Kratos' theme that will undergo through these changes; other characters will  also have specific themes that will explore these kind of emotional changes. 
https://twitter.com/SonySantaMonica/status/985657911559909377
Of course, being Bear McCreary, there will always be some interesting aspect to his music. In the case of God of War, the use of a hurdy-gurdy, nyckelharpa, and the Hardanger fiddle allowed him to use authentic Scandinavian instruments for his melodies.
"So you can hear this old world contemplative folk sound that really is distinct from the kind of big cinematic orchestral approach that a lot of the score uses….This is what I think gives the score to God of War its voice, its personality."
An epic soundtrack needs epic instruments like the nordic hurdy-gurdy, which composer @bearmccreary used for the unforgettable God of War score. https://t.co/HSXDzAqidt pic.twitter.com/PZiSSlEaIf

— #GodofWar (@PlayStation) April 15, 2018
In just a few hours you'll be able to experience the full impact of the score when God of War is released exclusively on the PlayStation 4.
But if you can't wait, you can hear the entire God of War soundtrack on Spotify.
[Images courtesy of Sony Interactive Entertainment]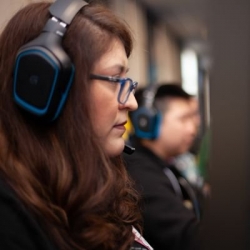 Latest posts by Renee Lopez
(see all)