In September, Disney Parks put out a survey asking people to vote for the next Legacy lightsaber hilt for Dok-Ondar's Den of Antiquities at Galaxy's Edge. Among the choices were Anakin Skywalker's lightsaber from Attack of the Clones, Qui-Gon Jinn's lightsaber from The Phantom Menace, both Kanan Jarrus' lightsaber and Ezra Bridger's second lightsaber from Star Wars Rebels, Lord Corvax's lightsaber from Vader Immortal, and Cal Kestis' lightsaber from Jedi Fallen Order.
With a commanding 41% of the votes, StarWars.com announced that Cal Kestis' lightsaber is on its way to Galaxy's Edge later next year.
The lightsaber will be the first one from a Star Wars video game: 2019's highly acclaimed Jedi Fallen Order. The story follows Cal Kestis, a padawan who survived Order 66. Finding refuge on the planet Bracca, he is unavoidably drawn into the aftermath. Throughout the game, Cal must evade the Sith Inquisitors, Sith agents sent by Darth Vader to hunt down Jedi survivors, and follow clues that could bring about the revival of the Jedi Order.
RELATED: NYCC 2020: Star Wars: The High Republic Panel Talks Characters and Conflict
With the arrival of Cal Kestis' lightsaber to the Den of Antiquities, there is a hope that other lightsabers will soon follow like Lord Corvax's lightsaber or perhaps Darth Revan's from Knights of the Old Republic (yes, Revan is canon again and yes, I would like this lightsaber).
Fortunately, we will not have to wait until next year to see new hilts at Galaxy's Edge. Ahsoka Tano's twin hilts from The Clones Wars and Count Dooku's lightsaber will be available this fall.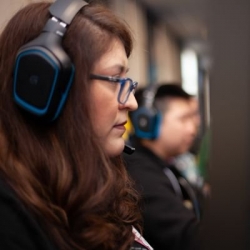 Latest posts by Renee Lopez
(see all)