After a month of pledges from devoted fans, Chorus: An Adventure Musical is now 100% funded on its Fig crowdfunding campaign! The first game from the collaboration of Bioware veteran David Gaider and Obsidian Entertainment/Beamdog veteran Liam Esler, Chorus is a narrative-driven, interactive musical role-playing game (RPG) with a star-studded cast and development team. Geek Girl Authority is diving into what makes this game so highly anticipated, and why you might want to consider donating before the campaign closes!
On September 18, 2019, David Gaider and Liam Esler officially co-founded Summerfall Studios: an indie video game developer in Melbourne, Australia. The announcement created a lot of buzz on the indie scene, as Gaider (Star Wars: Knights of the Old Republic, Dragon Age: Origins, and more) and Esler (Baldur's Gate II: Enhanced Edition, Pillars of Eternity, and more) are game writers/designers with about 30 years of experience between the two of them. Summerfall planned to announce the Kickstarter campaign for its first game at PAX Australia on Friday, October 11th.
Ahead of the announcement, due to controversy with Kickstarter regarding unionization, Summerfall decided to move the crowdfunding campaign to Fig. Finally, PAX Australia arrived, and at their live-streamed panel, Summerfall revealed their first project: Chorus: An Adventure Musical!
The announcement gained a lot of attention when it was revealed that not only would Gaider be writing the RPG, but Chorus would also be scored by DICE Award/BAFTA-winning and Grammy-nominated composer Austin Wintory, voice directed by DICE Award-winning and BAFTA/The Game Award-nominated actor Troy Baker, and starring BAFTA-nominated (and *harp music*-eliciting) actress Laura Bailey as the lead character.
Inspired by musicals like Buffy the Vampire Slayer's "Once More With Feeling" and Hadestown, and video games like Dragon Age and Dream Daddy, Chorus tells the story of Grace: a band leader with a normal life, struggling with hard times. However, when a mysterious singer named Calliope auditions for the band, Grace finally finds her Muse…literally! Turns out that Calliope is *the* Calliope: the Muse of eloquence, poetry, and ecstatic harmony from Greek mythology. However, when a dying Calliope suddenly appears at Grace's apartment doorstep, Calliope's soul is passed on to Grace and Grace is gifted with the divine powers of a Muse. Now, Grace must use her new singing powers to explore the hidden society of mythological beings and to prove her innocence to the Greek gods who accuse her of murder.
Chorus is an urban fantasy RPG that explores themes of loss and self-discovery. Greek mythology has evolved into a contemporary city (the titular "Chorus") just beneath the surface of our world. Zeus has reorganized Mount Olympus into a boardroom, and the Underworld is making a literal killing as a nightclub.
RELATED: BlizzCon 2019: Return to Icecrown in the WORLD OF WARCRAFT: SHADOWLANDS Cinematic
As you talk, sing, and romance (yes, romance: Gaider is one of the people who gave us Dragon Age, after all) your way through the Chorus, Grace can level up in three various Traits: Kickass (making Grace more adventurous), Clever (making Grace more intellectual), and Charming (making Grace more charismatic). Traits appear to be similar to the Personality dialogue system from Dragon Age II (for which Gaider was also Lead Writer). Laura Bailey provides Grace's voice-over for both dialogue and singing. It's an exciting and encouraging trend in Bailey's voice acting career to see more roles with musical parts, such as her jaw-dropping performance of "Daughter of the Sea" at BlizzCon 2018.
After reaching $450K (75% funded), Summerfall revealed its stretch goals for the Fig campaign:
At $650K (108.3% funded), Pan (Greek god of rustic music and the wilds) and Freddie (Grace's mortal best friend) will become available as in-game romance options (so far, only Apollo and Persephone are available as possible love interests).
At $700K (117% funded), extra songs will be added to the game!
At $725K (120.8% funded), Summerfall will film and edit a 45-60 minute-long "making of" documentary, with special interviews of the team and behind-the-scenes in the V-O booth. Not to mention a special karaoke livestream, with special guests!
At $750K (125% funded), Chorus will add even more voice-over to the game's dialogue. Also, a live-streamed Dungeons & Dragons game, played by the Chorus cast and crew, and DMed by David Gaider himself!
And if Chorus should be so lucky as to get to $900K (150% funded) within the next three days? Chorus will get full voice-over: every scene, every character!
If you would like to donate to help Chorus reach those stretch goals, there's still time! The Fig campaign is still going for a little over three days, ending on November 10th at 1:00 am Australian Eastern Time (that's Saturday, November 9th at 6:00 am Pacific Time for all us fans in the United States). You can donate as little as $8 to show this harmonious RPG your love…or as much as $20,000 if you're feeling as generous as Dionysus! And if you've already donated, you have the option to upgrade your pledge to a higher reward tier.
Whether you are a die-hard musical lover who has eagerly donated, a casual fan of story-driven indie RPGs, or you just want to hear more of Laura Bailey singing, Chorus is sure to delight gamers around the world. Keep an eye on Geek Girl Authority for more information on Chorus and its release date. We'll be getting our vocal chords warmed up in the meantime!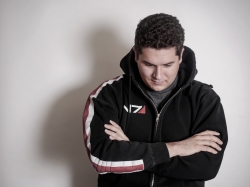 Latest posts by Tyler Boyce
(see all)