Entertainment Weekly just released six new covers, each featuring a female lead from Game of Thrones. It has been said that in the upcoming Season 6 of the hit HBO series, the female characters are going to dominate the story. This is not surprising as the last five seasons have had many male characters succumb to bad fate and tragedy.
The women are rocking this season — and I'm not just saying that because they're on your cover," says HBO programming president Michael Lombardo. "Daenerys (Emilia Clarke) always does, but also Brienne (Gwendoline Christie), Arya (Maisie Williams), Sansa (Sophie Turner), Cersei (Lena Headey), Margaery (Natalie Dormer), and other characters too, like Yara (Gemma Whelan). They power this season. It's organic to the storytelling, yet a radical shift. It's the women that are the hope that we're watching as the chess pieces move this season, and it's very exciting. ~EW 
I'm beside myself with anticipation for the new season!!! Game of Thrones, Season 6 premieres on HBO April 24th.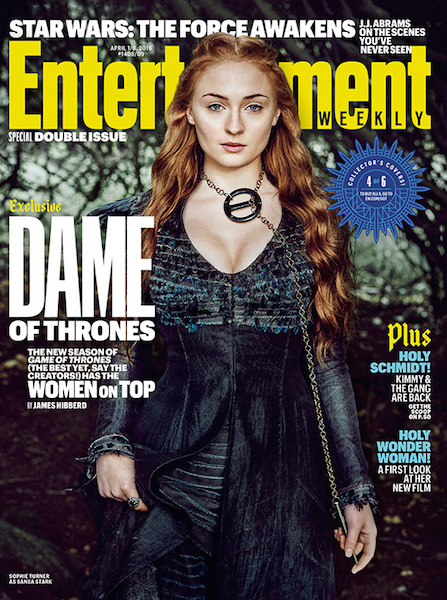 Follow Audrey Kearns on twitter here and Google+ here
Follow Geek Girl Authority on twitter here and Google+ here
Latest posts by Audrey Kearns
(see all)