Entertainment Weekly has released 11, that's right, 11 character posters for the upcoming The Lego Batman Movie! We get a fantastic look at some of our heroes and villains with each poster. The posters themselves are uniquely designed because it looks like the characters were spray painted on a yellow lego brick! It also appears that Barbara Gordon will definitely become Batgirl in the film!
The Lego Batman Movie has an all-star cast featuring Will Arnett reprising his role as the voice of Batman. Michael Cera joins him as the enthusiastic Robin. Ralph Finnes as the ever loyal Alfred. Rosario Dawson voices Barbara Gordon. The Joker is being voiced by Zack Galafinakis with Harley Quinn being voiced by Jenny Slate. And even Mariah Carey is cast as Mayor McCaskill, a new character seemingly made for the film!
RELATED: LEGO BATMAN TV Spot Sees the Joker Bringing Even More Villains!
I'm very much looking forward to this movie and I can't wait to see all the characters involved. I'm already loving and appreciating Michael Cera's Robin. RRRIP! What do you think? Check out the posters below and be sure to see The Lego Batman Movie in theaters February 10th!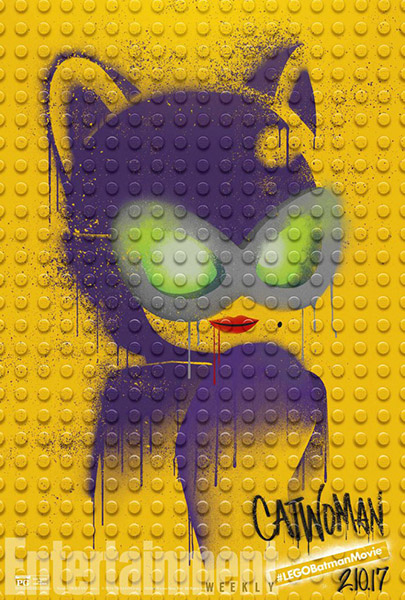 Latest posts by Erin Lynch
(see all)