It seems like you can't watch Twitch these days without hearing about some kind of controversy or harassment, whether it be someone filming inside a public restroom or throwing their cat. Thus, the Twitch channel Dechart Games feels like such a welcome alternative to the apparent negativity and reticence of the rest of the popular streaming platform. Also, that's "Dechart" like "deck-heart", which is appropriate given the reputation for big hearts and open arms that Dechart Games and its community have.
At New York Comic Con 2019, the married streamer duo Bryan Dechart and Amelia Rose Blaire shared some insights into their Twitch streaming, and the supportive and inclusive community it has created.
"My name is Connor. I'm the android sent by CyberLife."
Dechart Games was formerly BryanDechart: the personal Twitch channel of American actor and voice actor Bryan Dechart. Originally a film and television actor with over a decade of experience in shorts and indie films, Bryan is probably best known for his second-ever video game role as the RK800 android detective known as "Connor" in 2018's Detroit: Become Human (his first being various uncredited voice-over roles in 2016's Mafia III).
Bryan's Twitch streaming began with a blind playthrough of Detroit…blind because while Bryan had worked on it, he never had access to the other two playable characters, and thus only knew Connor's lines and scenes. The playthrough was also conceived as a way to give insight into the process for people interested in voice acting and/or performance capture. Bryan began streaming his playthrough on Twitch alongside his then-fiancée Amelia Rose Blaire (who also worked on Detroit in the role of the rebellious WR400 sex androids known as Tracis).
The community was very responsive to the first playthrough of Detroit, which surprised both Bryan and Amelia. "Detroit was my first video game since Guitar Hero [in 2005]," Amelia confessed, "It blew my mind that a video game could have such an emotional impact on you. I thought it was all just Fortnite!"
Amelia was likewise inspired and excited that Detroit's global statistics showed most people picked the game's more compassionate choices. Amelia remarked that this is what she loves most about video games: the player has the option to be the bad guy, and they still choose to save lives in-game. Bryan added, "We all share that empathy: that's what makes us human."
Detroit was a big break for both of the Decharts, but for Bryan especially. Not only did it make Bryan something of a hometown hero (Bryan Dechart was raised in Novi, Michigan, in the Detroit metropolitan area), but it was the fact that the character of Connor was modeled after Bryan's likeness.
"The first moment I realized that it was going to be big was when all the fan art started flooding in," Bryan reflected, "Not the concept art or based off the concept art: but fan art from Brazil, showing their interpretations of Connor, which looked very different from the interpretations from Singapore."
These fans came to be known collectively as the "ConnorArmy" (a reference to a potential ending from Detroit where Connor is seen leading a marching army of androids). Bryan and Amelia have traveled to over a dozen conventions around the world to meet with thousands of them.
After playing multiple playthroughs of Detroit (or as Bryan put it, "play every inch of the game"), Bryan and Amelia decided to branch out into other video games as well. Bryan admitted that he was a little nervous at first about branching out. "I used to play so many video games," Bryan recalled, "But then I decided, 'I'm going to be the most professional actor I can be', and I forsook all games!" This meant that Bryan had a lot of video games he had missed out on.
Bryan also admitted that he wasn't very good at playing video games…so much so that he almost rejected fan recommendations to play the critically-acclaimed The Last of Us. "I was terrified to play The Last of Us," Bryan confessed, "And I am as stealthy as a water buffalo. But I was surprised by how much I loved that game."
RELATED: Take a Cross Country Road Trip Inspired by Video Games 
"It's like a pure democracy…"
All games that Bryan and Amelia have played have come from community recommendations through their website. Both have been delightfully surprised by how much they've loved playing through these suggested games. Amelia's favorite game so far has been 2015's Life Is Strange. "Aside from The Last Of Us?" Bryan humorously answered, "I love Horizon: Zero Dawn. I can play that game way longer than Amelia can tolerate."
The Twitch channel rebranded from BryanDechart to Dechart Games, with Bryan emphasizing that channel is both him and Amelia, and not just himself alone.
It also has expanded into streams beyond just video game playthroughs. "Curiosity Chill" takes place every Tuesday, and originated from Bryan's love of Bill Nye: The Science Guy. The Decharts poll chat for research topics, vote on which of the most popular suggestions to research that day, and then study the subject for an hour-long Curiosity Chill.
As fans of the increasingly-popular Dungeons & Dragons game, Bryan and Amelia also began a live-streamed D&D campaign called "The Golden Spiral", with Amelia as one of the players and Bryan as the Dungeon Master.
Many of The Golden Spiral's story decisions are directed by community input, and Bryan shared how much he enjoyed that collaboration. For example, when creating The Golden Spiral's President of the United States, Bryan had initially thrown out "white guy" names like Richard or John, when chat came up with the idea of a female President named Cassandra Sterling.
Bryan shared how many good ideas they came up with by not making his own creativity and bias "too precious". "Even if your idea is really good," Bryan stated, "That doesn't mean this other person's idea can't be equally good."
"Everybody…we're all human. We all feel this."
When asked at NYCC what they would tell their twelve year-old selves to blow their tiny minds, Bryan's response was immediate. "YOU'LL PLAY VIDEO GAMES ON THE INTERNET FOR A LIVING!" Bryan shouted, "And you'll be interviewed onstage wearing Crash Bandicoot socks!"
Amelia shared her similar disbelief at how lucky she and her husband have become. "I'd say, 'You'll play video games and fly all over the world!'," shared Amelia, "…My twelve year-old self was like, 'What's a video game?'."
The gratitude and kindness that Bryan and Amelia feel and pay forward can be so infectious, and it has helped create one of the most supportive Twitch communities. "We're reflecting each other," Amelia explained, "We see a lot of positivity in the stream chat, and we reflect that back. And the chat reinforces that by reflecting that positivity back again."
This cycle of positivity and openness has come to characterize Dechart Games, but Bryan insists that there's no secret trick to it. "[Empathy] is more just people's instinct," Bryan elaborated, "It's more just about allowing it, as opposed to trying to 'foster' it."
Not to say that there aren't people who will occasionally show up to type "nonsense" into the chat (to which Amelia thanks their channel moderators), but Bryan claims that everybody comes to have a good time in chat. "Even if you come and you're in a bad mood," Bryan asserts, "And you're just trying to be some s***y Internet troll, you might just enjoy yourself."
"You…Are…Enough!"
No online community is perfect, but Dechart Games is as close as they come. Their positivity is awesome, their energy is addicting, and the core of their community culture is a not-so-unfamiliar humanistic empathy. Empathy is one of those characteristics I feel you can never have too much of in the world.
Whether they are playing Detroit, playing an entirely different video game, learning new scientific facts, or rolling d20s, Dechart Games has managed to tap into something so comforting and universal that it has connected fans not just across the United States, but also across the globe.
The Decharts' next game playthrough is Telltale Games's The Walking Dead, which begins on Saturday, October 12th at 12:00 pm Pacific.
So whether you're having a bad day or a good one, see when Dechart Games is streaming next and maybe tune in to become just a little more human?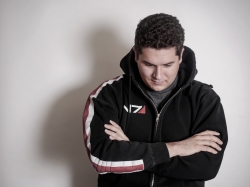 Latest posts by Tyler Boyce
(see all)