As revealed on Eurogamer, Warsaw-based game developer CD Projekt Red is already working on their next post-Cyberpunk 2077 single-player game. Though CD Projekt Red has yet to reveal what that game actually is yet, speculation has already begun that a new entry into the critically-acclaimed and award-winning The Witcher franchise.
This is a busy time for CD Projekt Red. Cyberpunk 2077 was originally scheduled for release on April 16, 2020, before delaying until September 17, 2020 in order to allow for additional playtesting, bug-fixing, and polishing. The news reveals that for the next six months, the company will be working on not one, but two big role-playing games (RPGs) at the same time. Fortunately, the new game is still in pre-production, so Cyberpunk's production and post-production can be allowed to suck up most of CD Projekt's resources for now.
RELATED: CD Projekt Red Delays CYBERPUNK 2077 Till Fall 2020
The news about a new game came from Adam Kiciński (President/CEO of parent company CD Projekt S.A.) at a Polish conference. In regards to what type of game it is, Kiciński added, "We have two worlds and we want to create games in those two worlds. That's why we all planned games that are either Witcher or Cyberpunk." While the statement doesn't necessarily confirm a new Witcher game, it definitely increases the odds to 50-50.
When asked if this meant a "The Witcher 4" was in the works, Kiciński was adamant. "I already said there will be no 'Witcher 4'," Kiciński clarified, "I clearly said that Witcher was a trilogy. Simultaneously, we've always emphasized that we want to create Witcher games and the agreement with Mr. Sapkowski confirmed our rights."
The agreement that Kiciński refers to is the updated intellectual property (IP) rights deal signed between CD Projekt Red and Andrezj Sapkowski (author and creator of The Witcher books). Sapkowski has had a bit of a reputation in the video games industry. He has less-than-enthusiastically referred to CD Projekt Red's games as merely "artwork" adapted from his books, and he infamously wrestled with CD Projekt Red about his original game rights deal following the release of 2015's The Witcher III: Wild Hunt. (Sapkowski's original agreement accepted a lump sum in exchange for the IP rights, instead of the far more profitable percentage of royalties that would have immensely benefited Sapkowski after The Witcher 3's booming popularity.) The new agreement signals a new era of cooperation, in exchange for setting the previous trilogy (and the controversy it generated between the two parties) to the side.
Looking at a Witcher franchise beyond the original trilogy could work to CD Projekt Red's advantage. CD Projekt Red has already experimented in this idea with spin-off games like 2018's Gwent: The Witcher Card Game and Thronebreaker: The Witcher Tales. Like the immensely-successful (in spite of being panned by critics) The Witcher series on Netflix, a new Witcher game could focus on other characters of the Continent, such as Yennefer of Vengerberg. Or perhaps even a time long before Geralt of Rivia, when witchers were far more common (possibly allowing players to create their own unique witcher)?
RELATED: THE WITCHER Reveals Cast, Directors as Season 2 Begins Production
Kiciński did not comment on how exactly the spread of COVID-19 worldwide might be impacting work on Cyberpunk 2077 or the new upcoming game. "The situation is changing so rapidly it's hard to offer any thoughts," Kiciński observed, "We'll participate in gaming events if the events will happen. In case of cancellation we can show the same thing in other ways – the Internet is still working, we have ways to reach the audience."
Cyberpunk 2077 still has a lot of work to do even after the game's release later this year. Most of the team will move onto developing Cyberpunk's multiplayer, which is slated for launch in late 2021 (if not later). The rest of the Cyberpunk team will start developing post-release expansions, which Kiciński confirmed will be no fewer than two.
As far as when the new single-player game can be expected, Kiciński reasoned that gamers shouldn't expect to see anything any sooner than 2023, if that. "Our projects take four-to-five years," said Kiciński, "It's hard to imagine creating a big RPG in two years. It sounds risky. Quality demands time."
What do you think? Do you think a new Witcher game is really in the making? Or are you just impatiently waiting for CD Projekt Red to finish Cyberpunk already? Keep an eye on Geek Girl Authority for more news about The Witcher, Cyberpunk 2077, and all your favorite video games!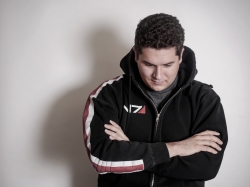 Latest posts by Tyler Boyce
(see all)