With only 2 episodes left in the season, the ultimate battle between Supergirl and Rhea is underway. In this week's episode Rhea finally created her transmatter portal, allowing hundreds of Daxamite ships to invade Earth. In the trailer for next Monday's episode "Resist" we see some unlikely alliances form and the return of Cat Grant (Calista Flockhart).
Ever since Supergirl moved their production to Vancouver, we knew that Calista Flockhart would be joining the show on a guest star basis. Cat Grant stuck around for the first few episodes of the season, but now with National City in peril, it only makes sense that she would come back to help lead the resistance.
In the trailer, we see Cat warning the people of National City about the alien threat. Not only that but Lillian Luthor (Brenda Strong) and Cyborg Superman have come out of hiding to help the resistance fighters. It is an unlikely alliance of foes, but I suppose "the enemy of my enemy is my friend" explains why Supergirl would join Lillian to undertake a dangerous mission. I'm also sure that Rhea taking Lena was a great motivator for Lillian to jump into the fight.
Speaking of Lena, we see her on the Daxamite ship along with Mon-El. She's wearing a fabulous red dress, but I wonder why she would be dressed up in such a way. Maybe Rhea is trying to hook her up with Mon-El? Maybe she treats the prisoners she likes very well? We'll have to see.
It looks like it will be all hands on deck for the fight to save National City and bring Rhea down. In the end, Rhea seems to be confident that it's over for Supergirl, but it could be that her overconfidence will be her downfall.
You can watch the trailer below and be sure to catch Supergirl on Mondays at 8pm PST/EST on The CW.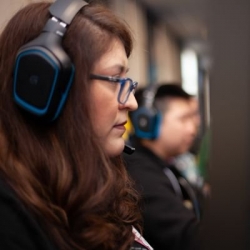 Latest posts by Renee Lopez
(see all)