We here at Geek Girl Authority are devastated at the loss of icon Carrie Fisher. She was a feminist icon and true inspiration to women around the world, especially those of us geeky girls. She was outspoken about mental health and her addictions, giving hope to those struggling with the same. Carrie was and will always be legendary. We wanted to gather our thoughts on what she meant to us.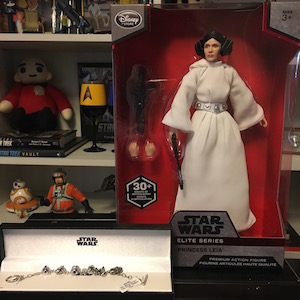 Carrie Fisher played a rebel in a film that changed the world beyond measure. She couldn't have known in her young years the positive and eternal effect that Princess Leia would have on millions of little girls (like me). Thankfully, 40 years after Star Wars premiered, that knowledge rested comfortably with her when she passed.
Today, upon reading that Fisher had passed, my doorbell rang. A late Christmas gift arrived from my mother. It was a Star Wars charm bracelet. What timing! The bracelet, along with the Princess Leia figure my husband gave me on Christmas, will help me forever hold reverence the woman who played the princess-turned-general, the woman who taught young girls to go toe-to-toe with the Han Solos of the world and the woman who unabashedly shared her struggles with all and persevered. Thank you, Carrie Fisher. – Audrey Kearns, GGA Founder and Editor-in-Chief
I can't properly put together a couple of sentences, the impact of Carrie Fisher's passing. All I can muster is that I am heartbroken beyond all belief. I first knew her on screen as a Princess/soldier who would become General. In real life she was an incredible writer and her sense of humor was like none other. Witty, dry and brilliant. I was in awe of her. Ms. Fisher was always blunt and outspoken about her own life and wonderfully unapologetic about dealing with mental illness. Thank you for being flawed, funny, stunning and a resilient woman that I aspire to be. RIP. – Claudia Dolph, GGA Co-Founder, Senior Contributor 
Carrie Fisher wasn't a hero for women.  She was a hero for all of us.  She was a rebel on and off screen.  She told truths that were uncomfortable for some to hear and acknowledge, because they were true and needed to be brought to light.  She was flawed.  She was reckless.  She was venerable.  She was brave and bold and sharp. She was not just a princess.  She was a leader.  RIP, General.  – Jenny Flack, GGA Co-Founder, Senior Contributor    
This news saddens me…I deeply appreciated the character that Carrie Fisher brought to life. I loved Princess Leia's confidence, her leadership, her perseverance, and her unwavering loyalty. And I admire Carrie Fisher's outlook on life, and how fiercely she fought her own personal battles. Now that I have a daughter, I can look to her and say, "You see that, little girl? You can be strong, brave, confident and uniquely you. You, as a woman, should always strive to be Princess Leia." Rest in peace Carrie, and thank you. – Renee Lopez, Contributor
I don't know what my life is without Carrie. She was someone who wasn't ashamed of being who she was. Of course Leia is iconic in her own right and a true leader but the woman behind Leia was wonderfully flawed – full of laughter and life. I'm devastated by her loss. And we will never get anyone quite like her again. I miss and love her with all my heart. Rest in peace, Carrie. – Erin Lynch, Contributor
Growing up, I didn't watch Disney films. So the first princess I was ever introduced to was Princess Leia. She was also the first rebel, first female action star and first character I wanted to be. Not because she was a princess but because she was strong. She stood up for her cause and wasn't afraid to face death. She jumped right into the action and never the damsel in distress. Carrie Fisher was my first hero. I'm devastated by her passing. Prayers go out to her family, friends and the legions of fans who share my grief. May the Force be with you…always. – Noetta Harjo, Contributor
What I want to say about Carrie Fisher is this: she was not a "perfect" woman. She had her demons – there were eating disorders and a bipolar condition. She was held to a MUCH higher standard of beauty than her male counterparts. While people were cheering Harrison Ford and Mark Hamill's return to the Star Wars series, people were busy critiquing Fisher for her appearance. Carrie wasn't immune to this. No woman is. But she still represented strength in a female character during a time when female characters were arguably afterthoughts or simply extensions of the male hero. But why have our little girls admire a Disney princess when they could admire an ass kicking Princess Leia? – Maia Rodriguez, Contributor
I grew up on Star Wars. It was the first film franchise I ever really connected with as a kid. Carrie Fisher was my first real female role model. Princess Leia is still everything I ascribe to be as an adult, and I have a sneaking suspicion she's the influence on my love of politics. The character of Princess Leia and the career of Carrie Fisher is what inspired me to become an actor. I find that my own struggles as an actor (weight gain, not being taken seriously due to mental illness) mirrored hers. Carrie Fisher existed with grace and dignity. I can only hope I can leave half a mark on this world as she did. Goodbye my "Acting Mom". – Carolyn Ducker, Contributor
Cat mom, panda enthusiast, and Batman lover living in a galaxy far, far away...
Latest posts by Erin Lynch (see all)