Good news Burnout fans! Criterion Games announced that Burnout Paradise Remastered will be released on the PlayStation 4 and Xbox One on March 16th for $39.99.
"When people think of Criterion Games, they often remember the Burnout franchise and for good reason. What we created 10 years ago, we feel is still fun and unique to this day in the gaming industry," said Matt Webster, General Manager at Criterion Games in a press release. "Burnout Paradise is an arcade racer built to provide players the thrill of racing with their friends, in a free form way that was both seamless and immersive, but also a little crazy with all the different stunts and crashes players could pull off. With the release of this remaster, we're able to share this action-packed ride with a whole new generation of players."
The remastered game will come with all eight add-on game packs, including Big Surf Island. The game will also be upgraded to support 4K resolution for both consoles and it will support 60FPS for the PlayStation 4 Pro and Xbox One X. In addition to the single player challenges, players will also be able to play with up to eight of their friends in online and offline multiplayer.
RELATED: Red Dead Redemption 2 Has an Official Release Date
There has been no word yet on whether this game will be released for the Nintendo Switch in the future, but it will be available for the PC through the Origin store later this year. EA Access members will be able to get their hands on 10 hours of unrestricted gameplay on March 9th through the Play First Trial.
Of course, the big question on no one's mind but my own is whether Crash FM will change, and the good news is that it will not. The game will come with the original music and if you are feeling just a little nostalgic, there is a Spotify Playlist available with all the tracks. I have missed the soothing sounds of DJ Atomika.
You can see the reveal trailer below as well as some screenshots of the remastered game. Personally, I cannot wait to get back into Road Rage and Marked Man. Those were by far my favorite challenges in the game. There was just so much destruction.
For more information, check out the Burnout Paradise website.
Gallery
[Screenshots courtesy of Criterion Games/EA]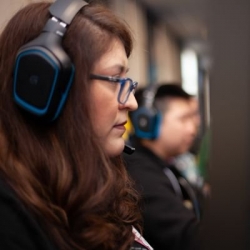 Latest posts by Renee Lopez
(see all)