Today Gearbox gave us a new trailer and the release date for their much-anticipated looter-shooter Borderlands 3. Vault Hunters, get ready because Borderlands 3 is out September 13, 2019 for PC, Xbox One, and PlayStation 4.
As we mentioned in our first article about Borderlands 3, this game will bring back some familiar faces from previous Borderlands titles. In this trailer, we get a better look at our new Vault Hunters Moze, FL4K, Amara, and Zane and the worlds players get to explore. We also get a better look at the villains, the Calypso Twins, who look about as hardcore as they come.
With new enemies, new worlds, and 1 billion guns, it looks like we're in for an incredible time in Borderlands 3. If players pre-order now they can get a Gold Weapons Skins pack. As for where to pre-order, the usual Xbox and PlayStation stores will have the game, but for the PC version, it is an Epic Games store exclusive until April 2020. It seems like Epic Games is continuing to challenge Valve's Steam service for PC games.
RELATED: Gearbox Officially Announces BORDERLANDS 3
Gearbox also announced a Gameplay Reveal Event on May 1st, so mark your calendars for that. And, in case you missed this announcement, the remastered version of Borderlands Game of the Year Edition is out now for PC, Xbox One and PlayStation 4. If you already have a copy of the GotY edition for PC, you can download a free update on Steam. According to a tweet from the Borderlands 3 official Twitter account, this GotY edition will have "new weapons, visual upgrades, characters heads, golds chests and keys, all 4 add-on packs, and more!" In addition to the remastered GotY addition, there is also a 4K texture pack available for Borderlands: The Handsome Collection.
You can watch the new announcement trailer below and bask in the glory of the wonderfully weird and gritty world of Borderlands 3.  I have feeling that Zane and I are going to be best friends.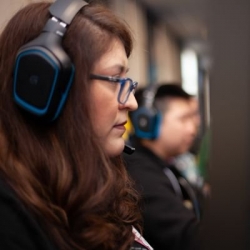 Latest posts by Renee Lopez
(see all)