When Euphoria first premiered in 2019 on HBO, it took viewers by storm. Everyone I knew was watching it and rewatching it. And for a good reason — the Season 1 finale was a showstopper; the soundtrack is infectious, the writing is witty and their handling of the sensitive themes feels realistic yet stylized. Season 2 wasn't quite as thoughtfully put together, but that's because the plot spreads out to focus on more characters beyond Rue more often. 
If you somehow missed either of the first two seasons, we'll catch you up. Euphoria follows the troubled life of 17-year-old Rue (Zendaya), a drug addict fresh from rehab with no plans to stay clean. The plot also breaks off to follow her friends and the influence her addiction has on the people around her.
As the classmates struggle to make sense of their futures, the series tackles the teenage landscape of substance-enhanced parties and anxiety-ridden day-to-day life with empathy and sincerity.
If you are having difficulty finding content with similar tones and honest views of mental health or addiction, this is the list for you. We've put together seven book recommendations to put on your to-be-read list while we wait for Season 3 of Euphoria to be released.
These recommendations will all deal with potentially triggering material such as the struggles of trans youth, anger management, drug or substance abuse and mental illness. If you have issues with this type of material, please consider this your content warning. 
RELATED: Queer Tested, Teacher Approved: 5 YA Books Where the Trans Kid Beats the Monster
Impulse – Ellen Hopkins
As soon as I started Euphoria, I was immediately reminded of Impulse by Ellen Hopkins. For anyone who wasn't in high school circa 2007, Impulse is a young adult novel written in verse. The book digs into the lives of three troubled teenagers as they try to work their way out of a psychiatric hospital by working through the issues that put them there. Like Euphoria, it puts the reader in the gritty narrative of the teens and makes you empathize with subjects that are considered taboo. 
The Dangers of Smoking in Bed: Stories – Mariana Enríquez
The Dangers of Smoking in Bed: Stories by Mariana Enríquez is something Rue would read in-universe. I read this one based on a recommendation from Goodreads when I was specifically looking for something to read after watching Euphoria, and it nails the vibe. The stories walk the line of beautiful but macabre.
The Dangers of Smoking in Bed is full of brilliant, unsettling tales of revenge, witchcraft, fetishes, disappearances and urban madness. If you were a fan of the sequences in the show where it was challenging to separate Rue's fantasy from reality, this is for you. 
Looking for Alaska – John Green
Looking for Alaska might not be the first book that comes to mind when you think of John Green, but did you know it was his debut novel? It is a coming-of-age novel that touches on themes of meaning, grief, hope, and the types of relationships you make in high school. If I could go back in time, it would be to read this book for the first time again.
The characters in Euphoria feel that everything they do in high school is permanent and will last the rest of their lives. You get that same false sense of finality and rebellion in Looking For Alaska that characterizes unsupervised youth. 
Sorry I Haven't Texted You Back – Alicia Cook
Sorry I Haven't Texted You Back by Alicia Cook reads like a self-help book, but it's poetry! The setup of it is unique with mixtape theming.  Divided into two parts, "Side A" holds 92 poems titled "tracks," and "Side B" contains the "remixes," or blackout-poetry versions, of those 92 poems. It says it is dedicated to those who struggle or have struggled with their mental health. Like Euphoria, it deals with themes of love, grief and hope.
RELATED: Queer Tested, Teacher Approved: 23 Queer YA Genre Books You Need To Read
Girl, Interrupted – Susanna Kaysen 
Girl, Interrupted by Susanna Kaysen is a rare case for me as I watched the movie before knowing there was even a book. The book is written as a memoir, and, like the movie, it takes place at a 1960s psychiatric hospital. If you are a fan of Euphoria's more candid and poignant moments, this will be right up your alley.
Don't worry; there is still plenty of humor and moments of triumph to carry the heavier themes. It was a must-read of the 90s, and it still holds up well today. 
Loveless – Alice Oseman
Loveless by Alice Oseman tells the story of Georgia, who spends the novel coming to terms with their asexuality. Like Rue in Euphoria, Georgia has never had a crush or been kissed but still wants to have relationships. Oseman is a master of prose and writes witty stories of identity and self-acceptance. This book is not as gritty as Euphoria but is an extraordinary tale of aromanticism in dating. 
Daisy Jones & The Six: A Novel – Taylor Jenkins Reid
Daisy Jones & The Six: A Novel by Taylor Jenkins Reid is yet another book on this list set in the 1960s but has radically different vibes than Girl, Interrupted. This novel is for you if you are a fan of the commotion and unsupervised party scene in Season 2 of Euphoria.
This book oozes sex, drugs and rock & roll and is another one I think Rue would personally read if she had the attention span for it. The writing is captivating, as it's an oral history of one of the biggest bands of the '70s.
That should be plenty to keep you busy while waiting for the Season 3 announcement. Which book will you add to your to-be-read list first? Have you read any of these before? We'd love to hear from you in the comments!
This article was originally published on May 6, 2022.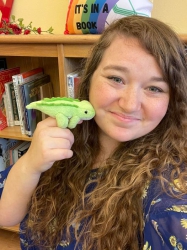 Latest posts by Lauren Darnell
(see all)