Did you sprint to the end of Our Flag Means Death and now have a pirate ship-shaped hole in your heart? Fear not, dear reader; there are many tales of love on the high seas to tide you over until season two blows in! You are guaranteed to love these even if you can't do the voices. These recommendations aren't exactly like Our Flag Means Death, but every pirate captain captains pirates differently! Haven't watched the show yet? That's alright. You can watch the first season on HBO Max here!
Before we move onto our list, we have one request, when selecting a retailer to purchase your reading from, please consider stopping into your locally owned bookstores first! Many indie stores will allow you to order online and have the books shipped right to your house if you prefer to shop online. 
Tell No Tales: Pirate of the Southern Seas
Tell No Tales by Sam Maggs and Kendra Wells is the jaunty tale of Anne Bonny.  Full of sass, solidarity, and swordplay, Tell No Tales is a graphic novel about belonging, belief, and how far we're willing to go to protect the ones we love. This is a great choice as it is also inspired by the historical exploits of real-life female pirates Anne Bonny! It might be worth brushing up on her just in case she shows up in season two. 
Princeless: Raven the Pirate Princess 
Ready for a tale of revenge and comradery? Princeless: Raven the Pirate Princess By Jeremy Whitley is a comic series! Fans of Our Flag Means Death will enjoy the panels filled with fantastic chase scenes, cinematic fight scenes, lush scenery and memorable crew members. Raven's world is diverse with a mix of mid-eighteenth-century ships, towns with ancient Polynesian islands and steampunk technology, though, so if you are a pirate purist, this might not be just right. 
The Mermaid, the Witch, and the Sea
Needing a sapphic love story of opposites attracting? The Mermaid, the witch, and the Sea by Maggie Tokuda-Hall has you covered. Both Florian and Evelyn have lived their lives by the rules and whims of others. But when they fall in love, they decide to take fate into their own hands—no matter the cost. This book is all of the high stakes and action you want from your romance on the sea stories! 
RELATED: 7 Graphic Novels in Celebration of Trans Day of Visibility
In Deeper Waters
I specifically bought In Deeper Waters by F.T. Lukens after finishing Our Flag Means Death and it was just what I needed! If you need more of the fluffy and swashbuckling side of Our Flag Means Death, you'll love this YA fantasy read. Get ready for goofy banter and lots of tender kisses in this queer romance. In Deeper Waters is now my favorite cozy read. It might be a queer retelling of The Little Mermaid rather than pirates exactly, but it hits the notes of the lighter moments from Our Flag Means Death that make it the perfect way to wait out the hiatus.  
Tides of Mutiny
Is your heart easily taken by a salty sea dog who doesn't play by the rules? Tides of Mutiny by Rebecca Rode is set in a world where all women sailors are executed, but not all are gone. Lane Garrow has spent her life on the sea and would die before giving it up… which is a very real possibility indeed when a prince shows up and threatens to blow her cover. Tides of Mutiny has a lot of "will they, won't they" tension with an enemies-to-lovers crossover that makes it hard to put down!
The Girl From the Sea 
The Girl From the Sea is a sapphic graphic novel by Molly Knox Ostertag. If you are into Our Flag Means Death's tragic backstories and hidden feelings, this is the book for you. Morgan's dealing with a lot. She's done with her crumby life and ready to leave her island. Of everything she's stuffing down, her biggest secret is about wanting to kiss another girl. I read this graphic novel right after the Tea Dragon Society. So if you want the same kind of soft color palette and comfort reading, this is great. 
Which book reminds you the most of Our Flag Means Death? Are you adding any of these titles to your TBR list? We'd love to hear from you in the comments!
Queer Tested, Teacher Approved: 23 Queer YA Genre Books You Need To Read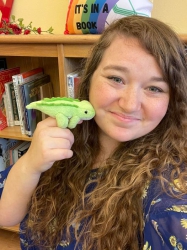 Latest posts by Lauren Darnell
(see all)