Indie studio Blowfish Studios recently announced Winter Ember, a new stealth action game from developer Sky Machine Studios. The game made its debut at this year's Los Angeles Comic Con.
Winter Ember is set in a Victorian-esque world, where stealth is your weapon and revenge is your goal. You follow the story of Arthur Artorias, a faceless man who returns home after nearly a decade in exile. Upon his arrival he sees that his home city of Anargal is now in the hands of Greater Heaven, a religious militant faction.
"Sky Machine has crafted an immersive stealth game that makes wonderful use of lighting, verticality, and a deep toolset to allow players to sneak around however they see fit," said Ben Lee, co-founder, Blowfish Studios said in a press release. "We look forward to showing more of Winter Ember soon."
As Arthur, you must use the shadows to avoid detection while gathering clues, infiltrating key locations, surveilling the environment, and finding hidden passageways.  There are multiple ways to get around, and you are rewarded for using unconventional methods for getting in and out of places.
The game is not just about stealth. There is a combat and crafting system that allows Arthur to create specialty arrows that can help him in different situations.
RELATED: GGA Game Review: DEVIL'S HUNT Doesn't Deliver the Thrill
You can watch the story trailer below. Judging by the trailer and screenshots, this game has a lot of potential. The trailer alone has me interested in learning more about Arthur and his past, why he was exiled, why he's finally coming home, and the origin of Greater Heaven. With the immersive stealth mechanics in place, this just might be the game that scratches my Dishonored itch.
It has not been announced when Winter Ember will be released or on what platforms, but GGA will keep you updated as we hear more. 
Screenshots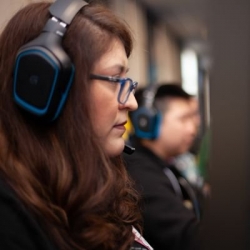 Latest posts by Renee Lopez
(see all)