As the US recovers from the COVID-19 pandemic, states are now dropping their mask mandates and crowd-size restrictions in an effort to return to normalcy. Due to these changes, concerts are coming back, Broadway is opening back up and major video game conventions are being planned. Unsurprisingly, some major events will still be online like E3 2021, while others, like BlizzCon, will be postponed until 2022.
BlizzCon Executive Producer Saralyn Smith explained in a statement:
"Building an in-person BlizzCon is an epic and complex affair that takes many months of preparation—not just for us, but also for the many talented production partners, esports pros, hosts, entertainers, artists, and other collaborators we team up with locally and globally to put all of the pieces together.

The ongoing complexities and uncertainties of the pandemic have impacted our ability to properly move forward on many of these fronts, and ultimately we're now past the point where we'd be able to develop the kind of event we'd want to create for you in November."
RELATED: Watch and Listen As Benedict Cumberbatch Tells the Story of the Legendary Drizzt Do'Urden
While this news is disappointing to the many Blizzard fans, it's a precaution that Blizzard needed to take. BlizzCon has continued to bring in huge crowds, with the last in-person con (2019) totaling approximately 40,000 attendees. It is a massive endeavor that requires months of planning. Undoubtedly, Blizzard took their time weighing the pros and cons of bringing BlizzCon back.
Now that BlizzCon 2021 has been canceled, we can now look to 2022. According to the statement, BlizzConline is being planned for early 2022 that will include the online show along with "smaller in-person gatherings." There will be more information to come at a later date.
What do you think about BlizzCon 2021's cancellation? Sound off in the comments below!
DEAD BY DAYLIGHT Resident Evil Chapter Is Horrifyingly Delightful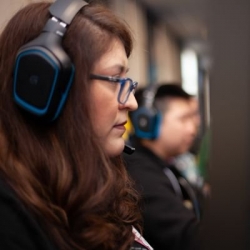 Latest posts by Renee Lopez
(see all)