In the weeks leading up to BlizzCon 2019, gamers were treated to a series of leaks regarding Diablo IV and Overwatch 2.  Of course, these leaks were hard to avoid on social media, but on Friday Blizzard officially announced that Diablo IV is happening.
Naturally the news was met with a mix of enthusiasm and wariness. People still remember the debacle that was the Diablo Immortal announcement at BlizzCon 2018. But regardless of how people might feel about this announcement, this is major news for fans of the beloved franchise. After all, it has been 7 years since the release of Diablo III.
What's striking about the game is the overall feel. It starts with the announcement cinematic, "By Three They Come," which was by far the darkest, most brutal cinematic we've seen out of Blizzard. It was so dark that Blizzard put up disclaimers outside of the Anaheim Convention Center warning people that some of the content seen in the Opening Ceremony might be not be suitable for younger audiences. Of course, I couldn't imagine that a cloak made from the blood tendrils of three sacrificed humans would be suitable for a good amount of people. This alone should give you a sense of what we can expect from Diablo IV.
Diablo IV will bring us back to Sanctuary and five new regions: the desert of Kehjistan, the forests of Scosglen, the wilderness of the Dry Steppes, the Fractures Peaks, and the swamplands of Hawezar. Here our heroes will be faced with new enemies and new dangers. Speaking of Heroes, it has been announced that we will be getting Barbarians, Sorceresses, and Druids. There will be two more classes revealed at a later time, but I am willing to bet good money that we will see Paladins and Demon Hunters (sorry Necromancers).
In addition to new regions and the return of iconic classes, there will be World Bosses and Keyed Dungeons that will challenge players. Talent trees and skills, legendary and set items, runes and rune word combinations are all a part of character customization. There will be mounts and each class will have a special dismount move in combat.
RELATED: BLIZZCON 2019: Return to Icecrown in the WORLD OF WARCRAFT: SHADOWLANDS Cinematic
As far as gameplay goes, players can expect the same tried and true gameplay system that has been apart of the Diablo franchise since the beginning. Each class will have their own special moves that can be upgraded over time. The spells are massive, the melee moves are destructive, and the Druid's bear form is made for mauling hordes of enemies by the clawful.
But the main question is: what is Diablo IV about? Based on the cinematic trailer, an old familiar evil has returned to Sanctuary. Enter Lilith, Mephisto's daughter, Queen of the Succubi, Daughter of Hatred, and essentially the mother of the nephalem. Her devoted followers have brought her back to the world she helped Inarius create and she is looking to either rule it or burn it to the ground. It will be up to the Heroes to stop her and the deadly monsters that now inhabit Sanctuary.
Diablo IV has no release date and according to the Diablo team it's not going to be released any time soon, "even by Blizzard standards." So, it looks like we are in for a long wait. If Blizzard's track record has proven anything, then we should see Diablo IV in 2022 at the earliest.
Cinematic Trailer "By Three They Come"
Gameplay Trailer
Screenshots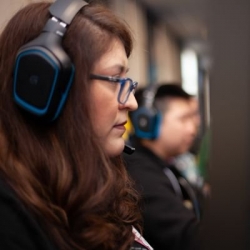 Latest posts by Renee Lopez
(see all)