The time has finally come, Nephalems. BlizzCon 2018 is upon us. The yearly celebration of all things Blizzard Entertainment starts tomorrow in Anaheim, California. The two-day event features panels, demos, and news from all our favorite Blizzard games.
This year in particular has been jam-packed with rumors and news regarding Diablo III and the future of the series. In previous BlizzCons Diablo news was scarce, which lead fans to believe that this year would be Diablo's time. Many expected a Diablo 4 announcement during the event, but a blog post on October 17th quickly quelled those rumors but managed to conjure up a few more.
 "While we won't be ready to announce all of our projects, we do intend to share some Diablo-related news with you at the show," the blog post states. So, while we won't be receiving any news about a future Diablo game (maybe), we are guaranteed some Diablo news.
Diablo III on the Nintendo Switch
Diablo III: Eternal Collection launches on the Nintendo Switch tomorrow for $59.99. You can also purchase a Diablo III bundle for $359.99 from GameStop, which includes a Diablo III themed Switch, dock, and carrying case. It also includes the full edition of Diablo III: Eternal Collection.
RELATED: Confirmed: Diablo III Is Finally Coming to the Nintendo Switch
Diablo III Amiibo
Naturally, because Diablo III will be available on the Switch, rumors started flying about potential Amiibos. Well, wonder no longer! Today Blizzard announced that there will be at least one Diablo III Amiibo available soon. Behold the Loot Goblin.
Where there are goblins, there is treasure to be found! Summon your own portal to untold riches with the exclusive #DiabloSwitch Loot Goblin amiibo – available Dec 2018! pic.twitter.com/jLe4vMmkcH

— Diablo (@Diablo) November 1, 2018
Coming to GameStop in December, the Loot Goblin is currently available for pre-order for $15.99. The GameStop website says it will be released on December 31st, but we should probably expect it sooner. Now that the Loot Goblin is confirmed, the sky's the limit on what other Amiibos we could be getting in the future. My hope is a Demon Hunter, Deckard Cain, and Malthael.
As of now we're not entirely sure what we'll get from this Amiibo, but more information will probably be released tomorrow.
Rumors
As the Diablo III blog post said, there will be Diablo-related news at BlizzCon. We know about Diablo III on the Switch, we now know about the Amiibo. So what other rumors are out there?
Diablo Animated Series
In August, Revenge of the Fans reported that there is a Diablo TV series in development at Netflix. Screen Rant also reported the news linking back to the original Revenge article. Andrew Cosby, the screenwriter for the upcoming Hellboy movie, is said to be tied to the project. According to the Revenge article, he made a tweet confirming that he was in final talks to develop a Diablo animated series, but apparently that tweet was quickly deleted. Could it be that this announcement might be made at BlizzCon?
The likelihood of this being true is actually quite high in my opinion. With the success of the Castlevania Animated Series, it seems that there is a market for video game-based animated shows. With how dark and gritty the Diablo universe is, this kind of show would fit right in. And with The Witcher Netflix series also in development, it seems that Netflix is trying to tap into the fantasy/supernatural/horror market.
Diablo II Remastered
Another big rumor is a possible Diablo II Remastered game. There hasn't been a lot of information about this one in some time. There was an IGN article posted in February in which they quoted David Brevik, the creator of Diablo, saying that it would be "extremely difficult" to remaster Diablo II because of the resolution that was used to develop the game (800×600). But that didn't stop fans from looking at the Blizzard job postings and noticing that Blizzard has been actively looking for people to work on their Classics team.
The likelihood of getting a Diablo II Remastered game is about 50/50 at this point. StarCraft Remastered worked out well and the graphics update looked fantastic. This alone gives me a bit of hope that Diablo II Remastered can happen. However, Diablo II is a dense game so there is a lot that will need to go into making it happen for the modern PC.
Diablo Mobile Game
The last rumor we'll address is the possibility of a Diablo mobile game. This stems from a job posting in which Blizzard is looking for a new dungeon artist for an unannounced Diablo project. News outlets quickly assumed that this meant a mobile game.
The likelihood of a mobile Diablo game is also about 50/50. Mobile games seem to be the new trend and Diablo seems to be the type of game that would work well on mobile. If Blizzard is about expanding Diablo's reach, as evident with it's released on the Switch, then making the game available on iOS and Android just might be the way to go.
This does seem to be Diablo's year and it couldn't happen fast enough. The beloved franchise has been pushed to the back burner by World of Warcraft and Overwatch in recent years but with the game's release on the Switch, the new Amiibo, and the flurry of plausible rumors, it looks like we're in for something great.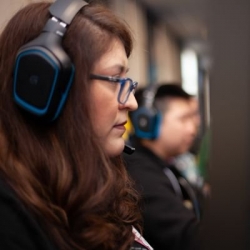 Latest posts by Renee Lopez
(see all)