After some speculation on whether or not BlizzCon would happen again this year, Blizzard just announced that it is happening and it will take place at the Anaheim Convention Center on November 2nd and 3rd.
This will be the 12th BlizzCon and it looks to be another extraordinary event of all things Blizzard games. The festivities start with the BlizzCon Opening Week on October 25-29 at the Blizzard Arena Los Angeles. During this opening week, fans will be able to watch the initial rounds of the StarCraft II World Championship Series Global Finals, the Heroes of the Storm Global Championship Finals, and the World of Warcraft Arena World Championship Finals.
"BlizzCon is our favorite time of the year at Blizzard," said Mike Morhaime, CEO and cofounder of Blizzard Entertainment, in a press release. "It's our chance to meet and really get to know the people behind the terran commanders, demon hunters, and Tracer mains we play with every day—to share our passion for games and esports with each other, and celebrate what being in the Blizzard community is all about. We can't wait to see everyone at the show."
The first round of ticket sales will happen on Wednesday, May 9 at 7pm PST. If you're not able to get tickets during that time, don't worry, there will be another batch of tickets available on Saturday, May 12 at 10am PST. Tickets are $199 and they will be sold through the Universe site once again. A ticket includes a 2-day admission to the convention plus the BlizzCon goody bag.
RELATED: Next World of Warcraft Expansion Battle for Azeroth is Arriving in August
There will also be the charity dinner on May 1st that benefits the CHOC Children's pediatric hospital. For $750 you can have dinner with Blizzard developers, artists, and community representatives. The tickets for that special event will go on sale on Wednesday, May 16 at 7pm PST.
If you are wondering if there will be tickets available for BlizzCon Opening Week, there will be a limited amount available. More details on those tickets will be released at a  later time.
Of course, if you cannot make it to the big event, fans will be able to purchase the Virtual Ticket which will offer viewers streaming content of all the panels, the opening ceremony, the closing ceremony and exclusive interviews. Details on the Virtual Ticket costs, availability and programming will be released later.
For more information about BlizzCon, visit the website. Good luck to everyone trying to get a ticket.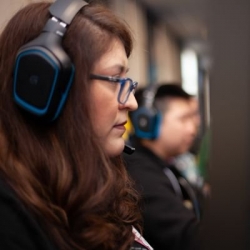 Latest posts by Renee Lopez
(see all)