We are one month away from BlizzCon 2017 and we are now getting major announcements about the 2-day event that celebrates all things Blizzard Entertainment. A few days ago Blizzard released the schedule of events, but today they answered the biggest question we all had: who will be playing the closing ceremony?
This year, to the surprise and excitement of many, Grammy winners Muse will be playing the closing ceremony on Saturday, November 4th.
Muse joins an impressive list of rock bands who have graced the BlizzCon stage including:
BlizzCon 2005:

The Offspring

BlizzCon 2009:

Ozzy Osbourne

BlizzCon 2010:

Tenacious D

BlizzCon 2011:

The Foo Fighters

BlizzCon 2013:

Blink-192

BlizzCon 2014:

Metaliica

BlizzCon 2015:

Linkin Park

BlizzCon 2016:

"Weird Al" Yankovic
Muse has been touted as one of the best live acts around and they have received many awards including two Grammy Awards, an American Music Award, five MTV Europe Music Awards, two Brit Awards, among others. The band formed in 1994 and they have released seven studio albums with their latest, Drones, earning them the Grammy for Best Rock Album in 2016.
"We're thrilled to close out our 11th BlizzCon with a performance from one of rock's greatest live acts," said Mike Morhaime, CEO and cofounder of Blizzard Entertainment said in a statement. "Muse has wowed millions of people around the world with their groundbreaking music, and we're excited that they're coming to give BlizzCon attendees an epic sendoff."
If you are not able to catch Muse live at BlizzCon you can still pick up a Virtual Ticket which will give you streaming access to the big concert.
As for their potential set list for the closing ceremony, we can assume that older hits like "Knights of Cydonia," "Uprising," "Starlight," "Supermassive Black Hole," and "Hysteria," will be played. We can also expect some songs off of Drones, possibly "Pyscho," or perhaps more appropriately "Mercy" and "Reapers."
For a taste of what to expect from Muse, you can listen to two of their songs below. For more information about BlizzCon and to purchase a Virtual Ticket, check out the website, and be sure to read Geek Girl Authority for all the BlizzCon news and updates.
We'll see you at BlizzCon 2017!
[Photo Credit: Muse]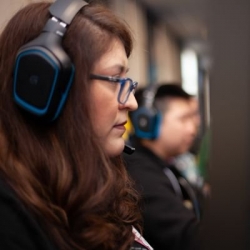 Latest posts by Renee Lopez
(see all)