There have been a few studios popping up over the years from former Blizzard employees, and yesterday's big announcement added a few more to the list. Ex-Blizzard CEO Mike Morhaime announced the opening of Dreamhaven, a new Irvine-based studio.
"I'm excited to team up with such talented people who care deeply about games and their communities," said Morhaime in a blog post. "I've always believed in the power of games to bring people together regardless of backgrounds or boundaries. With Dreamhaven, we look forward to creating and sharing new experiences with players everywhere."
Dreamhaven will both create and publish games. Their goal will be to "empower creators, help bring their ideas to life, and create original gaming experiences that foster meaningful connections between players." To achieve this, Dreamhaven also announced the opening of two new studios: Moonshot Games and Secret Door.
RELATED: Shadowlands Afterlives Revendreth Animated Short Shows Us A Ruler's Compassion
Moonshot Games
Moonshot Games is a new studio from ex-Blizzard developers Jason Chayes, Dustin Browder and Ben Thompson. Chayes is a former Executive Producer for Hearthstone, Browder is the former Game Director for StarCraft II and Heroes of the Storm and Thompson is the former Creative Director for Hearthstone.
"Dreamhaven has assembled some amazing people, folks who truly share our values, and we're really excited to begin this next adventure together," said Moonshot studio head Jason Chayes.
Secret Door
Secret Door is the second studio opening under Dreamhaven. Founded by Chris Sigaty, Alan Dabiri and Eric Dodds, the studio will focus on bringing people together through positive experiences. Sigaty is a former Executive Producer on Hearthstone, StarCraft II and Heroes of the Storm. Dabiri was a Technical Director and Game Director for Warcraft III, StarCraft II and Heroes of the Storm. And Dodds was a game designer for World of Warcraft and StarCraft as well as the original Game Director for Hearthstone.
"The amount of game development and publishing experience at Dreamhaven combined with the camaraderie between our studios is already providing an unparalleled environment for creative collaboration," said Secret Door studio head Chris Sigaty.
With the announcement of Dreamhaven, Moonshot Games and Secret Door, one can't help but feel that this a response to the changes that have happened at Blizzard over the past few years. The idea of an independent studio operating without a big company pulling the strings must be a weight off the shoulders of these developers. At a time when larger studios are being bought out by major companies, indie studios are a welcomed counterpoint.
For more information about Dreamhaven, Moonshot Studios and Secret Door, visit their official websites.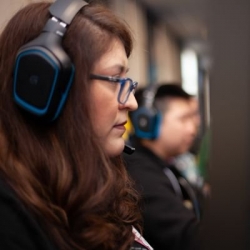 Latest posts by Renee Lopez
(see all)