After the critical success of Oxenfree, all eyes were on indie developer Night School Studio as we waited patiently for news about their next big game.
Enter Afterparty, a game whose premise is quite simple: you must outdrink Satan in order to get back to Earth. The game is set in Hell, and players follow two recently deceased best friends Milo (Khoi Dao) and Lola (Janina Gavankar) who are faced with this seemingly impossible task.
"I think it's fair to say that if any of us turns up in Hell, our first priority will be to GTFO and get sloshed with our best friend. We want to give players real agency in accomplishing those goals," said Sean Krankel, co-founder and studio director of Night School Studio said in a press release. "Players can chat up demons and the deceased using a new dialogue system, challenge them to Satanic bar games, and drink from a huge menu of infernal cocktails, all with game changing abilities."
Players will alternate between both characters at strategic points throughout the game. As Milo and Lola, players will find themselves deep in the stories of the other characters in hell and these stories will oftentimes intertwine. How the story ends will be dependent upon the decisions that are made when each quest is completed. While Milo and Lola will spend their time in the flashy bars on the island Nowhere, they will also be able to explore other islands by traveling down the River Styx. This all results in one incredible, crazy night.  
RELATED: Myst Series Is Being Remastered for Windows 10
You can watch the trailer below and you can find out more about the game by visiting the website. I'm personally very excited about this game. If Night School Studio has shown us anything, it's that they excel at creating enjoyable, supernatural-themed games and this one looks like a winner.  
Afterparty will be released in 2019
Gallery
[Images courtesy of Night School Studios]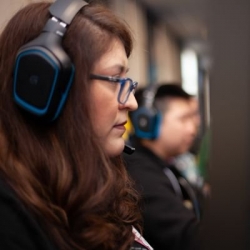 Latest posts by Renee Lopez
(see all)