Saying that 2022 was an amazing year for anime would be an understatement. We got second seasons of older series like The Devil is a Part-Timer, along with continuations of long-running favorites. The year blessed us with a bounty of surprise smash-hits like My Dress-Up Darling and Chainsaw Man.
But with new anime releases slowing down for the end of the year, this is the perfect time to catch up on some hidden gems. With that in mind, we have our list of the underrated anime that got overshadowed this year!
RELATED: Need help finding the perfect gift? Check out our gift guides!
Aoashi
I'm not a huge fan of sports anime, but I loved Aoashi. The art is beautiful, the characters are lovable, and the stakes are just high enough to keep the plot moving at an addicting pace. After a loss in his last junior high school soccer tourney, Ehime Prefecture's ace player, Ashito Aoi, is devastated. The manager of an organization that trains students for one of the leading clubs in the J-League sees Ashito's raw talent and offers a tryout to his group.
You can watch Aoashi right now on Crunchyroll!
Dance Dance Danseur
Dance Dance Danseur gives me the same kind of chills I got when I watched Blue Period. Second-year junior high school student Junpei was fascinated by ballet as a boy but gave up on dancing after his father's death, thinking that he had to act more manly. That is until, one day, a beautiful transfer student named Miyako appears before him.
You can watch Dance Dance Danseur on Crunchyroll now!
Kotaro Lives Alone
I know a lot of people skipped Kotaro Lives Alone, and I am here to tell you that was a mistake. This slice-of-life anime about a preschooler who lives alone with the help of his neighbor might seem goofy on the surface but has a deceptively emotional storyline. So grab some tissues and settle in for a surprisingly deep time. 
You can watch Kotaro Lives Alone on Netflix now!
RELATED: Anime Roundup: Everything Coming Out In November
Aharen-san wa Hakarenai 
When it comes to anime, it doesn't get much more wholesome than Aharen-san wa Hakarenai. Socially awkward Aharen-san has personal boundary issues, either getting too close or too far from her classmates. When fellow student Raido picks up an eraser she drops, Aharen-san decides they're now best friends. Whether studying, playing the arcade, or just eating lunch—she's along for the ride. Affection can blossom in the unlikeliest of places!
You can watch Aharen-san wa Hakarenai on Crunchyroll now!
Romantic Killer
I was genuinely surprised by how much I loved Romantic Killer. The characters are highly likable, the expressions are hilarious, and the plot is a fresh take on a familiar premise.
Anzu Hoshino needs only three things in her life: video games, chocolate, and her beloved cat. Unlike other high school girls, Anzu has no time for or interest in romance. But as she begins playing a poorly programmed 3D otome game, a bizarre flying wizard named Riri emerges from the screen and calls Anzu "subject one," the first person who will experience a dating game harem storyline in real life.
You can watch Romantic Killer on Netflix now!
RELATED: 8 Anime Outros Too Good to Skip
Sabikui Bisco
I sincerely don't understand why everyone isn't watching Sabikui Bisco. It is an epic adventure with amazing character design and a high-stakes plot. In Japan's post-apocalyptic wasteland replete with dust can only be saved by one thing—fungus. Bisco Akaboshi, a wanted criminal and skilled archer, searches for a legendary mushroom, known as Sabikui, said to devour any and all rust. 
You can watch Sabikui Bisco on Crunchyroll now!
What anime will you be watching while you run out of the year? Did you catch any of our underrated favorites during the year? Comment below to tell us what you'll be watching!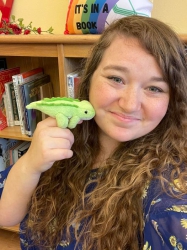 Latest posts by Lauren Darnell
(see all)