Who told cartoon bands they are allowed to go so hard? I have a whole playlist titled "These Songs Don't Exist" just because there are so many fictional bands who still catch my ear today. From boy bands to full rock ensembles, there are some truly amazing cartoon bands that could pack stadiums if they were in the flesh. This is nowhere near a complete list of our favorite animated bands, but it is a start. The only caveat we have to the list is it has to be a band or solo performance, not just a musical number! We will admit there are some amazing musical numbers in animation too, but that's a list for another day. If you would like to see that list feel free to comment below. 
The Hex Girls (1999-Present)
The Hex Girls are an eco-goth rock band that changed my life when they first graced the screen for Scooby-Doo! and the Witch's Ghost. Thorn, Dusk and Luna appear several times after their debut concert and even got a redesign. My favorite performance is when they show up back in the Scooby-Doo animated series to play with Daphne. The band is portrayed by actresses and singer-songwriters Jennifer Hale, Jane Wiedlin and Kimberly Brooks who also wrote all of The Hex Girl's songs. 
RELATED: Here Are 10 More Female-Fronted Bands and Artists That Should Be on Your Radar
Ra's and the League (League of Shadows) (2019-Present)
When Ra's al Ghul hit the stage in DC Super Hero Girls, it made my jaw physically drop. The sudden introduction of a heavy rock number with haunting lyrics and mesmerizing visuals was an unexpected yet stunning addition to the otherwise pop-centered soundtrack of the show. The Up Past poser band that the boys form in this same episode to distract Supergirl was good too, but it's hard to compare them to the utter shock of Ra's performance. Jason C. Miller did the vocals and I beg you to hit play on the video below. 
Powerline (1995)
There's one thing we can all see eye to eye on, the grip that Powerline still has on millennials even still today is immense. We will cry in the Disney parks watching Max and Goofy doing the perfect cast dance from A Goofy Movie where this powerhouse performer emerged. Tevin Campbell's performance makes Powerline truly stand out among the crowd of other cartoon bands and keeps us singing to this day. 
Chip Skylark (2001-2017)
Chip Skylark is a recurring act within The Fairly Oddparents universe and for good reason! Every song puts out is an instant hit from Icky Vicky to just singing happy birthday to Timmy. The one that always sticks in my head though is Shiny Teeth. Every once in a while it just gets stuck in my head like a commercial jingle. 
Sadie Killer and the Suspects (2013-2020)
Steven Universe is full of amazing bands and stellar solo performances, so this was a difficult decision. Sadie Killer and the Suspects was a short-lived project between Sadie and the cool kids of Beach City. They all moved on to new things, including Sadie who still sings, but there is something special about their sound that makes it stand out even amongst the break-away hits in the show. This is Rebecca Sugar's show so it's no mystery why this cartoon band is so exceptional.
Marceline the Vampire Queen (2010-2021)
Speaking of Rebecca Sugar, there's another cartoon musician that goes hard and her name is Marceline the Vampire Queen! I listen to ten-hour loops of Marceline's songs on Youtube just because she goes so hard. This bass-playing vampire is from Adventure Time, which is a very music-heavy show, but she is the undisputed top rocker of the Land of Ooo.
RELATED: Geek Girl Authority Crush of the Week: Marceline the Vampire Queen
LumberZacks (2013-2016)
The LumberZacks are a lumberjack-themed boy band within the Milo Murphy's Law universe. They were best known for their song Chop Away at My Heart, which was inspired by their coincidental possession of identical outfits that included flannel shirts and jeans. The band has a reoccurring appearance in the show and in our hearts. 
Ruberiot (2015-2019)
Ruberiot is the official court songstrel for the royal family of Mewni within the Star vs the Forces of Evil universe. He is voiced by Fall Out Boy lead vocalist Patrick Stump and is a bit of a gossipmonger. With the angst and power of the punk rocker in his corner, Ruberiot truly goes hard. We would happily hop into a different universe to catch him on stage. 
Ember (2004-2007)
No one in the Danny Phantom universe, living or dead, goes quite as hard as Ember McLain. Her speaking voice is done by Tara Strong and her haunting vocals are provided by Robbyn Kirmssé. Ember is a power-hungry musician ghost who hates authority. She thirsts for attention and has a seductively cutting, sarcastic personality that enchants her listeners. In life, Ember was completely ignored but in death, she has everything she ever wanted; fans who will always remember her name. 
Love Handle (2007-2015)
You could say Love Handle is the reason we have Phineas and Ferb at all! This 80s hair band, with their cool love ballads, is the reason the show's parents got together in the first place. The kids work together to pull the band back together for a special anniversary performance that let the band sneak their way into our hearts and heads with this catchy earworm of a song! 
So which one of these songs will you be humming for the rest of the day? Did we miss a favorite on our list? Comment below and tell us which cartoon band you are the fan club chairman for!
This article was originally published in April 2022.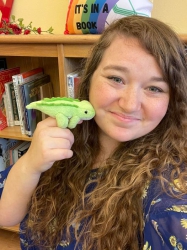 Latest posts by Lauren Darnell
(see all)