With the year coming to a close, it is time to look back on all of the epic anime we binged in 2022. I can honestly say that this was the best year of anime I have had in years. Several of the series that came out this year bumped a few long-standing favorites off of my top ten list (sorry, Princess Jellyfish). 
There are no rules for this list, only vibes. We will be including anime movies, huge fan-favorite hits and smaller (but still popular) titles.  If you are hoping to see your niche favorite on the list amongst the year's mega-hits, you might check our list of underrated favorites instead!
RELATED: 6 Underrated Anime You Might Have Missed in 2022
SPY X FAMILY
SPY X FAMILY took the anime world by storm. The concept for it is so unique, the animation is gorgeous, and the secondary plot lines are so fun. It is the perfect mix of the familiar slice-of-life content and action. Unfortunately, we won't be reuniting with the Forger family for Season 2 until October 1, 2023. 
Secret agent Twilight must undergo his most challenging mission yet—pretending to be a family man. Posing as a loving husband and father, he'll infiltrate an elite school to get close to a high-profile politician. It's the perfect cover, except his wife's a deadly assassin, and neither knows the other's identity. Well, no one but his adopted daughter and telepath. 
My Dress-Up Darling
Coming in heavy on the slice-of-life (and fan service) side of anime this year was the surprise hit, My Dress-Up Darling! I'll admit that this one took me by surprise, but from the opening to the character designs and plot progression, I loved it all. If you are a fan of slow-burn relationships, this is a ship for you. 
Gojo is large, lanky, shy, and a little socially inept at times, which contrasts with eccentric, loud, cosplaying Kitagawa. Their friendship *cough cough* starts when Kitagawa finds out Gojo can sew her costumes for her, and the rest goes from there. He's got the skills, and she's got the bod, but will that be enough to keep them together? 
RELATED: Anime Roundup: Everything Coming Out in December
The Orbital Children
The Orbital Children is another one that I can honestly say the animation is stunning. The visuals immediately pull you in, and for some reason, the whole show reminded me a bit of Sword Art Online. I think it is the MAJOR attitude of the main character Touya Sagami.
This Netflix original anime is set in the year 2045. It follows the story of two children born on the moon and three children from Earth after an incident leaves them stranded on their shuttle. All six episodes take place in the span of just a few hours as the children struggle together to survive the horrors of space.
Bubble
Bubble is a post-apocalyptic parkour masterpiece that is packed with action and a relationship that reminds me of the one in Ponyo. The setting is what really drew me in on this one, but the breathtaking animation in the action sequences is what makes it a top pick for me. 
Hibiki, a reckless but talented ace, accidentally slips from the rooftops, but before plummeting into the gravity-bending sea below, Uta, a girl with mysterious powers, saves him. What bonds the pair together is their ability to hear a sound only audible to them.
Mieruko-Chan
A rare horror entry to the anime scene, Mieruko-Chan is everything you want. The characters are endearing, the animation is horrifying in a good way, and the intense cliffhangers had me coming back every week without fail. 
One morning high-school student Miko wakes up suddenly aware of ghosts. At first, she's convinced that she is just going crazy since no one else reacts to them around her but eventually accepts her "gift" is real. The imagery in this anime is truly horrifying and grotesque, so I suggest starting it with caution.
RELATED: 6 Underrated Anime You Might Have Missed in 2022
Fruits Basket-Prelude 
The Fruits Basket- Prelude movie was one of my most anticipated watches of 2022. Though I'll admit, I was disappointed by how much of its runtime was used as a recap rather than new content. The main reason I was so excited to watch it was for the new lore and world-building. That being said, seeing Kyoko in her Red Butterfly era and glimpses of Toru and Kyo's life together was a game changer. 
Chainsaw Man
Chainsaw Man is not for the faint of heart. Like seriously, if you have an aversion to blood or gore, DO NOT play the trailer below. This anime had me holding my breath for the next moment. The world-building in it is intense, the storytelling is unique, and the characters carry the plot through some impossible moments. 
Denji is a young boy who works as a Devil Hunter with the "Chainsaw Devil" Pochita. One day he makes a deal with Pochita and gets resurrected as the "Chainsaw Man,": the owner of the Devil's heart.
Cyberpunk: Edgerunners
Speaking of gory but glorious, we were blessed by Cyberpunk: Edgrunners this year too! Based on CD Projekt Red's Cyberpunk 2077, this show has everything; found family, high-octane action, a killer soundtrack and a killer visual aesthetic.
The series tells a standalone, 10-episode story about a street kid trying to survive in Night City — a technology and body modification-obsessed city of the future. Having everything to lose, he stays alive by becoming an edgerunner — a mercenary outlaw also known as a cyberpunk.
RELATED: 8 Anime Outros Too Good to Skip
Dr. Stone: Ryusui
From supporting character to leading man, Dr. Stone: Ryusui is a special episode that is a charming and humor-filled continuation of the main anime. Anyone who reads the manga will tell you that finally getting to see Ryusui's skills as a sailor is enough of a reason to watch. 
Demon Slayer: Kimetsu no Yaiba-Entertainment District Arc
Finally, we have my top pick for the year, Demon Slayer: Kimetsu no Yaiba. Specifically, the entertainment district arch which gave us one of the best and most flashy Hashira in Tengen Uzui and an astonishing amount of character growth for the core characters.
In this arc, Tanjiro, Zenitsu and Inosuke are devastated by the tragic loss of Rengoku, the Flame Hashira. They bury their collective anguish with rigorous training until Uzui shows up looking for some help to stop a powerful demon stalking the Entertainment district.
What was your top anime for 2022? Did it make our list, or did we miss your must-see favorite? Comment below to tell us what you were watching this year!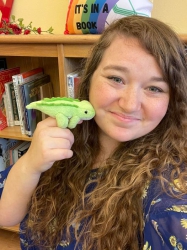 Latest posts by Lauren Darnell
(see all)