Last June Atari announced the Ataribox, a retro gaming console reminiscent of the Atari 2600. Unlike the Xbox One, PlayStation 4, and Nintendo Switch, this console would be open, allowing anyone to run their games on the system.  With this announcement, Atari has made its way back into the hardware game after filing for bankruptcy in 2013.
At the 2018 Game Developers Conference (GDC), Atari revealed the prototype for the Ataribox, which is now rebranded as the Atari VCS. As you can see from the product pictures below, there is a lot to be excited about with this new console.
RELATED: Sign Up for Early Alpha for Frostkeep Studios' Fantasy-Survival Game Rend
"Every person at Atari and every partner involved with the new platform is just as fanatical about the brand and its heritage as our biggest fans are. With the Atari VCS name, we know how important it is to get everything completely right, and that's why we briefly paused an imminent launch late last year. It was a difficult decision with the countdown underway, but we weren't willing to go forward with even one thing out of alignment. We hope that despite the delay, Atari's fans appreciate our extreme attention to detail and are as excited about the Atari VCS as we are," said Atari Connected Devices chief operating officer Michael Arzt in a statement (via VentureBeat).
The console itself sports the wood-grain siding that many gamers will remember from the old consoles. Atari traded in the paddles for a modern controller that looks a lot like the Xbox One controller. The real winner; however, is the joystick.
The joystick has definitely received an upgrade, and I'm sure that it will not feel as clunky as the original (though it will be missed). The overall style of the console, controller, and joystick, is simplistic, but with a touch of nostalgia.
Atari has yet to confirm the price of the new console, but they have said in the past that it would be around $250-$300. The console will play classic Atari games, and will support indie titles on an open Linux operating system. More details on the console including a pre-order date will be announced in April. In the meantime, you can put your name on the waitlist to get important launch updates.
[Images courtesy of Atari]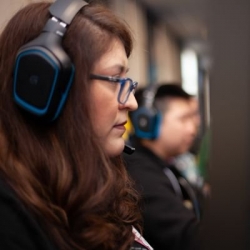 Latest posts by Renee Lopez
(see all)