Yesterday, Variety revealed that Academy Award-nominated actor Antonio Banderas has been cast in a yet-to-be-announced role for Sony's upcoming Uncharted film adaptation.
The film cast is led by Tom Holland (Spider-Man: Far From Home) as treasure hunter Nathan "Nate" Drake and Mark Wahlberg (Mile 22) as Drake's mentor and partner, Victor "Sully" Sullivan.
RELATED: UNCHARTED Lost Another Director but Already Has Eyes on a New One
Antonio Banderas joins a supporting cast that thus far includes Sophia Ali (Grey's Anatomy) and Tati Gabrielle (Chilling Adventures of Sabrina). The announcement comes hot on the heels of the widespread acclaim that Banderas received for his role as Salvador Mallo in 2019's Dolor y gloria ("Pain and Glory" in English). Banderas has a long history of filming with Sony Pictures, going as far back as films like 1993's Philadelphia (where he played Miguel Álvarez, the partner of the film's lead) and 1995's Desperado (where he took over the titular role of El Mariachi in Robert Rodriguez's Mexico trilogy).
The Uncharted film has been in development hell since as early as 2008, when producer Avi Arad started pitching the idea of adapting the first Uncharted game to Sony Pictures. The idea of an Uncharted film gained wider popularity after the praise given to the 2018 fan film made by director Allan Ungar (Gridlocked), starring Nathan Fillion (The Rookie) as Nathan Drake. Fillion had long campaigned on social media to play Nathan Drake, before Tom Holland was finally cast in the role on May 22, 2017.
RELATED: UNCHARTED Release Date Pushed to 2021
The Uncharted film has gone through numerous directors and screenwriters over the past decade or so. The current iteration is being directed by Ruben Fleischer (Venom), with Art Marcum and Matt Holloway (both of whom worked on Iron Man, Men in Black: International and more) having written the most recent draft of the script.
Uncharted is set for release in theaters on March 5, 2021.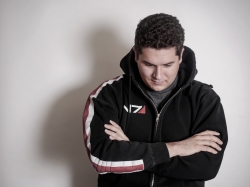 Latest posts by Tyler Boyce
(see all)