Valentine's Day is upon us, and whether you are happily entangled or alone, we have a list of fantastic anime for you to "kiss, kiss, fall in love" with. This list will include upcoming releases, old favorites and surprise hits full of couples worthy of your love. You can catch all of these swoon-worthy series on Crunchyroll.
Horimiya 
Horimiya features my favorite underrated anime couples. Hori is a prim and perfect social butterfly at school, but she's really a brash homebody. Meanwhile, under a gloomy façade, Miyamura hides a gentle heart, piercings and tattoos. They both reveal a side they've never shown in a chance meeting. You can watch Horimiya on Crunchyroll here.
My Dress-Up Darling
Speaking of opposites that attract, we have to talk about My Dress-Up Darling. If you haven't already watched this surprise hit from last year, now is the perfect time to watch shy, dollmaking Wakana Gojo and ultra-popular Marin Kitagawa's story. Coming together to work on a cosplay project, they have much to learn from one another. We should be getting a second season of this one soon, but for now, catch My Dress-Up Darling on Crunchyroll here.
RELATED: 8 Anime Outros Too Good to Skip
Fruits Basket (2019 Remake)
Fruits Basket earns an obvious spot on this list. If you haven't watched the remake, it is worth the time; if you have, then you know it is worth the time again. Tohru Honda thought her life was headed for misfortune until she moved in with the mysterious Soma clan. But she quickly learns their family has a bizarre secret of their own: when hugged by the opposite sex, they turn into the animals of the Zodiac. Usher in the Year of the Rabbit with Fruits Basket on Crunchyroll here.
Tomo-chan Is a Girl!
Moving to a new release, let's talk about Tomo-chan Is a Girl! Tomboy Tomo couldn't have picked a more awkward high school crush because it's on her childhood friend, Junichiro, but he only sees her as one of the guys. Despite her pretty looks and signals, nothing gets through to this meathead. Is this match meant to be? Find out on Crunchyroll here. 
The Ice Guy and His Cool Female Colleague
Another new, unlikely romance to keep an eye out for is The Ice Guy and His Cool Female Colleague. For Himuro, being a descendant of a snow spirit is tough at work when your emotions can lead to snow blasts with snowmen and igloos. Any emotionally charged incident with coworkers can trigger it—conflict, fun, and in this case, romance. Can love thaw a frozen heart? Find out weekly on Crunchyroll here.
RELATED: 8 Anime Opening Songs That Are Total Bops
Yuri on Ice
If you are new to anime and need something easy to fall in love with, Yuri on Ice is always a good choice. Yuri Katsuki carried the hope of all of Japan on his shoulders but suffered a crushing defeat in the finals. He returned to his hometown in Kyushu and hid away in his family's home, half wanting to continue skating and half wanting to retire. That was when the five-time consecutive world champion, Victor Nikiforov, suddenly showed up. Watch the fan-favorite anime on Crunchyroll here.
Ready to fall in love with a new series? Which anime will you watch to get you through the season of love? Did we miss your favorite couple? Tell us in the comments below!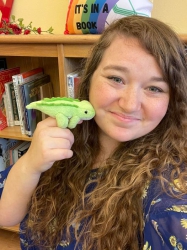 Latest posts by Lauren Darnell
(see all)